'All My Children' and 'One Life To Live' Heading to the Internet but Face Budget, Union Issues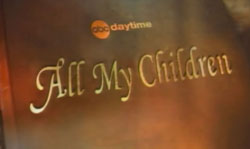 Even people who don't watch soap operas (like myself) were happy to hear that Internet company Prospect Park was picking up canceled ABC soaps All My Children and One Life to Live because of the company's attempt to create a new release format for media, which offers hope that future fan favorite but canceled-before-their-time television series like Freaks & Geeks and Arrested Development could have a life after cancellation.
Others, like my mom (who has been watching All My Children since she was in high school) are a bit more skeptical — after all, how could an Internet company afford to produce a series that a major network deemed too expensive?  Turns out my mom is on to something, as the Los Angeles Times is reporting that there are several hurdles that must be overcome before anything else can be done to transition both shows to the Internet.
The main issue has to do with the overhead costs, including union fees.  The article mentions that it costs "as much as $50 million a year to produce" a soap because of the large cast and writing staff.  It's pretty obvious that a relatively unknown Internet company, even if it is run by former Walt Disney Co. executive Rich Frank and Jeff Kwatinetz, former CEO of The Firm.  A major part of that cost is devoted to union fees, and Prospect Park will have to negotiate appropriate terms for something that hasn't quite been done before — and these negotiations could set precedents for the future of Internet programming for decades to come.  It also might mean the departure of a majority of the cast and crew of each show.  Other problems include exactly where the shows will be filmed — the article mentions that ABC has already reserved the One Life to Live set for Katie Couric's upcoming talk show.
The solution for this might be some kind of pay-per-view subscription model, which might not be feasible considering that significant portions of the target demographics for soap operas aren't generally very web savvy.  Another option is a television syndication deal, which could be a much better solution.
All My Children is set to debut on the Internet in some fashion on September 26, while One Life to Live will follow on January 23.
I know we have some soap fans who read Daily Actor, so give us your thoughts — what's your view on the possible problems these soaps face in their life-after-television-death?
http://www.dailyactor.com/wp-content/uploads/2015/01/watch-al-pacino-talks-the-humbli.jpg
Watch: Al Pacino Talks 'The Humbling' and His Extraordinary Career
In this conversation with Al Pacino talks about his role in The Humbling -- including working with Greta Gerwig -- and his historic acting career
http://www.dailyactor.com/2015/01/watch-al-pacino-extraordinary-career/
http://www.dailyactor.com/wp-content/uploads/2015/01/watch-oscar-nominee-steve-carell.jpg
Watch: Oscar Nominee Steve Carell Talks Improv, Auditioning for 'The Office' and 'Foxcatcher'
Carell talks about his entire career as an actor, including his background in improv, how he landed the Michael Scott role on The Office, and Foxcatcher
http://www.dailyactor.com/2015/01/oscar-nominee-steve-carell-improv-auditioning-for-the-office-foxcatcher/
http://www.dailyactor.com/wp-content/uploads/2015/01/ethan-hawke-ellar-coltrane-boyhood.jpg
Ethan Hawke Calls 'Boyhood' the "most special endeavor of my life"
Ethan Hawke is riding high with his fourth Oscar nomination for the Richard Linklater-directed Boyhood. In a recent "Ask Me Anything" on Reddit, the 44-year-old actor gave some thoughtful insight into his career and the 12-year creative endeavor that became the biggest film of the Oscar season. When asked what was the most difficult thing about […]
http://www.dailyactor.com/2015/01/ethan-hawke-boyhood-reddit-amaife/
http://www.dailyactor.com/wp-content/uploads/2015/01/martha-plimpton-a-delicate-balance.jpg
Martha Plimpton Takes a Refreshing Approach to a Long-Lasting Career
Martha Plimpton is an actress who enjoys the work, she's not in it for the fame. The proof is in her continually excellent work that she is doing on-screen and on the stage. She's currently starring in A Delicate Balance on Broadway. It's the audience who gives her the ultimate thrill. "I try to get […]
http://www.dailyactor.com/2015/01/martha-plimpton-long-lasting-career/
http://www.dailyactor.com/wp-content/uploads/2015/01/watch-michael-keaton-talks-candi.jpg
Watch: Michael Keaton Talks Candidly About His Career and His Approach to Acting in 'Birdman'
In this nearly 90 minute conversation, Michael Keaton is his usual affable self but is also remarkably candid about his career and his approach to acting.
http://www.dailyactor.com/2015/01/michael-keaton-career-approach-to-acting-birdman/