'All My Children' and 'One Life To Live' Heading to the Internet but Face Budget, Union Issues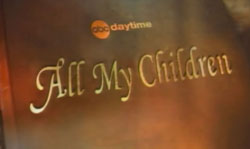 Even people who don't watch soap operas (like myself) were happy to hear that Internet company Prospect Park was picking up canceled ABC soaps All My Children and One Life to Live because of the company's attempt to create a new release format for media, which offers hope that future fan favorite but canceled-before-their-time television series like Freaks & Geeks and Arrested Development could have a life after cancellation.
Others, like my mom (who has been watching All My Children since she was in high school) are a bit more skeptical — after all, how could an Internet company afford to produce a series that a major network deemed too expensive?  Turns out my mom is on to something, as the Los Angeles Times is reporting that there are several hurdles that must be overcome before anything else can be done to transition both shows to the Internet.
The main issue has to do with the overhead costs, including union fees.  The article mentions that it costs "as much as $50 million a year to produce" a soap because of the large cast and writing staff.  It's pretty obvious that a relatively unknown Internet company, even if it is run by former Walt Disney Co. executive Rich Frank and Jeff Kwatinetz, former CEO of The Firm.  A major part of that cost is devoted to union fees, and Prospect Park will have to negotiate appropriate terms for something that hasn't quite been done before — and these negotiations could set precedents for the future of Internet programming for decades to come.  It also might mean the departure of a majority of the cast and crew of each show.  Other problems include exactly where the shows will be filmed — the article mentions that ABC has already reserved the One Life to Live set for Katie Couric's upcoming talk show.
The solution for this might be some kind of pay-per-view subscription model, which might not be feasible considering that significant portions of the target demographics for soap operas aren't generally very web savvy.  Another option is a television syndication deal, which could be a much better solution.
All My Children is set to debut on the Internet in some fashion on September 26, while One Life to Live will follow on January 23.
I know we have some soap fans who read Daily Actor, so give us your thoughts — what's your view on the possible problems these soaps face in their life-after-television-death?
Latest Videos
http://www.dailyactor.com/wp-content/uploads/2014/10/alex-sharp-curious-incident-of-the-dog.jpg
Alex Sharp Talks About His Broadway Debut in 'The Curious Incident of the Dog in the Night-Time' (video)
Alex Sharp went from working in a call-center and renovating houses to going to Julliard. And now, he's starring in one of the most talked about shows of the season, The Curious Incident of the Dog in the Night-Time. Check out this great, inspiring video!
http://www.dailyactor.com/2014/10/alex-sharp-broadway-debut-the-curious-incident-of-the-dog-in-the-night-time-video/
http://www.dailyactor.com/wp-content/uploads/2014/10/Its-only-a-play.jpg
Watch a Scene From Terrance McNally's, 'It's Only a Play', Featuring Nathan Lane and Micah Stock
Here's a quick scene from Terrance McNally's It's Only a Play, currently on Broadway at the Schoenfeld Theater. In this scene, Nathan Lane and Micah Stock meet for the first time. The show, about the opening night of a new play, also stars Matthew Broderick, Stockard Channing, F. Murray Abraham, Rupert Grint and Megan Mullally.
http://www.dailyactor.com/2014/10/watch-a-scene-terrance-mcnally-its-only-a-play-nathan-lane-micah-stock/
http://www.dailyactor.com/wp-content/uploads/2014/10/birdman-director-alejandro-g-ina.jpg
'Birdman' Director Alejandro G. Iñárritu Narrates a Scene from the Film Featuring Michael Keaton and Edward Norton
Director Alejandro G. Iñárritu narrates a scene from Birdman or The Unexpected Virtue of Ignorance that features stars Michael Keaton and Edward Norton. The film is wonderful and if it's playing in your town, definitely check it out!
http://www.dailyactor.com/2014/10/birdman-director-alejandro-g-inarritu-michael-keaton-edward-norton/
http://www.dailyactor.com/wp-content/uploads/2014/10/the-cast-of-mad-men-on-the-final.jpg
The Cast of 'Mad Men' on the Final Season and More
Though the AMC television series Mad Men might not carry the same cultural weight that it did a few years ago (splitting your final season over two years might do that to you), the second half of the show's final season is expected to be full of powerful performances from its ensemble cast. With the […]
http://www.dailyactor.com/2014/10/cast-of-mad-men-final-season/
http://www.dailyactor.com/wp-content/uploads/2014/10/behind-the-scenes-of-a-sex-scene.jpg
Behind the Scenes of a Sex Scene with Patrick Wilson, Brooklyn Decker and Director Joe Carnahan
Director Joe Carnahan is giving viewers an inside look at what it is like to film a big screen Hollywood sex scene, as confirmed by Gawker. Carnahan released a brief video clip taken from the set of his latest film Stretch starring supermodel and actress Brooklyn Decker and Patrick Wilson. The video showcases the two […]
http://www.dailyactor.com/2014/10/behind-the-scenes-of-a-sex-scene-patrick-wilson-brooklyn-decker-director-joe-carnahan/