SXSW Interview: Dane Cook "If you can self-generate and be a motivated person, I think that you can create your own opportunities"
Podcast: Play in new window | Download (Duration: 10:08 — 7.0MB)
Dane Cook is starring in Joseph Kahn's teen horror comedy, Detention. He play's Principal Verge and even though the two worked together before in Kahn's Torque, he jumped at the chance to again be in "Joseph's universe. "
I have to say, I loved talking with Dane. At the time of the interview, he was set to make his Broadway debut in Neil LaBute's Fat Pig. He was all set to fly to New York and start rehearsing but days after the interview, the financing fell through. There's talk though of it mounting next season which I really hope happens. I think Dane would be excellent in the show.
Dane and I talk Broadway, Detention and the need to be self-generating in your career!
For the full interview, click the audio link above or download it from iTunes
So what it's like seeing the film first time with an audience?
Dane Cook: It was great, yeah, it was everything I knew Joseph was capable of and what he was so articulate in his detail…  Look, I trusted him off the bat. Even though the script itself when I read it was like, "ok this is dense." And I get that it's multi genre, in somebody else's hands, maybe a bit much, but realizing visually and then sitting and talking to Joseph what I know him to be capable of from videos that he's directed, I wanted to go for the ride. I wanted to be in Joseph's universe.
I remember that story of George Lucas pitching Star Wars and I remember hearing stories where there is literally executives like, "what's a wookie? A wookie?" I was like, you gotta trust this guy man, he has the universe in his head. And read the script, thought it was great, knew that Joseph was doing it on his own budget literally, selling his own damn sneakers to put it up and I thought, how do you say no to that kind of passion, and that kind of… I'm a guy that gambled on myself early in my career. And I know that feeling of being on the cusp of, if this doesn't work I'm fucked, I'm really in some trouble. I don't wanna have to go back to my family and be like, no college education…  I took the gamble and I had to go full-tilt boogie and when Joseph finally told me what he set out to do, I was like man, I wanna help. I wanna be a part of that.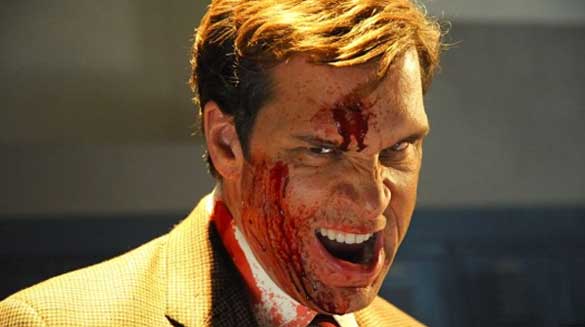 Do you have, still have to audition or fight for roles you really want?
Dane Cook: Sure. Yeah, sometimes. I mean sometimes you get the call where it's like big fan, like, Joseph come in and be a part of it, and then sometimes a piece comes along and I gotta get in there and there's a lot of great actors that could go for this part. I like that, I like that challenge. Like for example, I'm heading to Broadway next week to start…
I can't wait, man. Neil, I was a fan of Neil LaBute for years and I got the call from my agent, and "I get Neil LaBute on the line." And "Hey will you sit down and grab dinner with me?" Two nights later we were talking about the role of Carter in Fat Pig and he's like "I just want you play it man." So, you just never know how it's gonna come to you but I have no shame in saying I'll get in and fight for… you gotta do the work man, sometimes to get that role. It just takes being super prepared and getting in there and fighting for it.
Are you excited and nervous at the same time?
Dane Cook: I am, I am, I mean I use to do a lot of theatre before stand up, but mostly musical theatre I was like doing like Cole Porter plays. But, no, it's that kind of nervous that I got when I first started really hitting that new level in my stand up where I felt real responsibility like, this isn't just me winning over a crowd night tonight anymore like, victory! I got the laughs. I remember that moment like, this is like a movement. I am obligated now to take these people somewhere and deliver. And I'm feeling that with the play. And Julia Stiles is in the cast, Josh Hutcherson is in the cast. And the fact that Neil is bringing this himself and directing it on Broadway, I think that's what we all wanted, be there to facilitate, how does Neil see this, obviously he see's us were confident in that, that's what you need so much, it's like I have a director that believes in me, believes in my take, and the rest is like, let's just go, let's get in there and keep working.
What's your advice to actors?
Dane Cook: You know, I keep saying, especially this emerging talented young cast, which is, I think more than ever, you have to be self-generating. I don't think it's just about waiting for that perfect audition anymore. I think it's figuring out what you can bring to the table. Your writing skills, maybe just quite simply you just have the ability to rally people together for specific purpose. I remember doing a short film years ago I was like I have nothing, I have no money, I have no budget, but I knew a kid who had lights, and I knew, I could call him and say, "I'll get you in to my show for free and if you can help me out…" It was like I was really good at finding those favors and trying to get the gang together.
And so, I think you need to find, know those strengths and create your own opportunities, more than ever, because especially where the economy is at right now, in the way media is, it turns over so fast, people are afraid to invest in someone new. Everyone is looking for that, somebody who already has the idea, who's already proven. I think it's a tougher landscape out there right now, if you can self-generate and be a motivated person, I think that you can create your own opportunities.
Latest Videos
http://www.dailyactor.com/wp-content/uploads/2014/08/bryan-cranston-emmy-award-speech.jpg
Watch: Bryan Cranston's Emmy Award Speech: "I love to act. It is a passion of mine and I will do it until my last breath."
The Emmy Awards weren't the most exciting awards show this year but with Bryan Cranston winning for Outstanding Actor in a Drama for Breaking Bad, we at least got to hear one heck of a fantastic acceptance speech. "I was a kid who always looked for the shortcut," he said. "I did happen to stumble […]
http://www.dailyactor.com/2014/08/watch-bryan-cranston-and-aaron-pauls-emmy-award-speeches/
http://www.dailyactor.com/wp-content/uploads/2014/08/audition-tapes-gerard-butler-aud.jpg
Audition Tapes: Gerard Butler Auditions for 'Dracula 2000′
Check out Gerard Butler auditioning for the role of Dracula in the movie, Dracula 2000. The film, about a group of thieves who break into a chamber expecting to find paintings, but instead find Dracula himself, also starred Christopher Plummer, Jonny Lee Miller and Nathan Fillion. Bulter has some sweet rock star hair, huh?
http://www.dailyactor.com/2014/08/audition-tapes-gerard-butler-dracula-2000/
http://www.dailyactor.com/wp-content/uploads/2014/08/interview-matt-dillon-and-carla.jpg
Interview: Matt Dillon and Carla Gugino Talk 'Wayward Pines'
FOX has a new limited-series that's got a terrific cast and interesting premise. It's called Wayward Pines and stars Matt Dillon, Carla Gugino, Melissa Leo, Toby Jones, Terrance Howard, Juliette Lewis, Tim Griffin and Shannyn Sossamon. The show, whose pilot was directed by M. Night Shyamalan, is about a Secret Service agent (Dillon) goes to […]
http://www.dailyactor.com/2014/08/interview-matt-dillon-carla-gugino-wayward-pines-comic-con/
http://www.dailyactor.com/wp-content/uploads/2014/08/interview-wayward-pines-stars-ti.jpg
Interview: 'Wayward Pines' Stars Tim Griffin and Shannyn Sossamon on the Show, Their Characters and More!
Griffin and Sossamonwere at Comic-Con where they sat in on some roundtable interviews to talk about the show.
http://www.dailyactor.com/2014/08/interview-wayward-pines-stars-tim-griffin-shannyn-sossamon-comic-con/
http://www.dailyactor.com/wp-content/uploads/2014/08/interview-m-night-shyamalan-talk.jpg
Interview: M. Night Shyamalan Talks 'Wayward Pines' and Why He Expanded a Young Actors Role on the Show
I talked to Shyamalan at Comic-Con in a roundtable interview where he talked about the cast, what he learned from working in TV and how young actor Charlie Tahan started out with a small part but as the story grew, so did his role.
http://www.dailyactor.com/2014/08/interview-m-night-shyamalan-wayward-pines-comic-con/