More controversy over Natalie Portman's dancing in "Black Swan"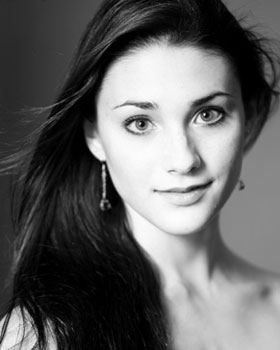 Sarah Lane is upset over the controversy surrounding her, Natalie Portman and "Black Swan", because she feels many people view her as greedy and angry over the misrepresentation of her contribution to the film, especially the request made by the film's producer that she not give any interviews prior to the Academy Awards.
"It was all my fault really because I didn't have a manager. When I was going to sign my contract it said on screen credit is up to the producer's discretion. I asked some people, I said I don't know about this. I feel like I should have it specified in my contract how I want to be credited and everyone was like you know you're a double so you're already getting paid more than a principal contract. So I signed the contract and I left it. I thought they would kind of take care of me because they were really encouraging and really sweet and always saying how amazing I was. They were kind of rooting me on when I would have to do shots that were really hard and almost impossible even for a professional ballet dancer."
Lane says things erupted when Dance Magazine editor in chief Wendy Perron began blogging about a cover-up after an online video showing Lane dancing with Portman's face digitally imposed on her body was removed from the Internet. " I don't want people to think that I'm here to trash Natalie and get fame for myself. I do want people to know that you cannot absolutely become a professional ballet dancer in a year and a half no matter how hard you work. I've been doing this for 22 years."
Fox Searchlight, the studio behind "Black Swan," released a statement addressing Lane's claims: "We were fortunate to have Sarah there to cover the more complicated dance sequences and we have nothing but praise for the hard work she did. However, Natalie herself did most of the dancing featured in the final film."
Computer special effects, or enhancements, in film are on the rise, and along with their use comes the controversy that raises the question of how viewers–and award voters–can distinguish between a performance from the actor vs. the special effects that enhance their performance. Brad Pitt's age regression in "The Curious Case of Benjamin Button", is a prime example of such special effects and the impact they have on the viewers perception of Pitt's performance.
While most moviegoers would not immediately catagorize "Black Swan" as a special effects film, by digitally imposing Lane's movements into Portman's performance, the question is raised of special effects vs. actor's abilities.
"I understand that they had to do what they had to do politically to make a low-budget movie an Oscar movie. And I know that it wasn't necessarily a personal thing. Unfortunately I was the one, and ballet itself, that was discredited."
Lane points out dancing was the real star of the film. "It was everything to the movie. It's called "Black Swan." She's a ballerina who goes crazy. You can't make it realistic if you don't have realistic dancing. It was a huge part of movie. And I know that's why they wanted to hire a soloist or a principal from one of the biggest ballet companies in the world to be the double. I'm not just any double that you get, I'm not a stunt double that goes in and crashes through a mirror. It's a lot different what I do."
To read more, go to: wsj.com
Latest Videos
http://www.dailyactor.com/wp-content/uploads/2014/07/bill-hader.jpg
Bill Hader: "I kind of fell into acting" (video)
Bill Hader, starring in the soon to be released The Skeleton Twins, talks about the film and how he fell into acting and then got "crazy lucky" in this quick video from USA Today. Share on Tumblr
http://www.dailyactor.com/2014/07/bill-hader-fell-into-acting-video/
http://www.dailyactor.com/wp-content/uploads/2014/07/director-john-carney-narrates-a.jpg
Director John Carney Narrates a Scene from 'Begin Again' Starring Kiera Knightley and Mark Ruffalo
Director John Carney (Once) narrates a scene from his new film, Begin Again. Starring Keira Knightley and Mark Ruffalo, the scene shows the first time the two characters meet. I haven't seen it yet but I've heard it's great.
http://www.dailyactor.com/2014/07/begin-again-scene-director-john-carney-keira-knightley-mark-ruffalo/
http://www.dailyactor.com/wp-content/uploads/2014/07/holler-if-you-hear-me-gma.jpg
Watch the Cast of Broadway's 'Holler If You Hear Me' Perform 'California Love' on GMA
The cast of Broadway's newest musical, Holler If You Hear Me with music from Tupac Shakur, performed on Good Morning America this morning. Singing 'California Love', the cast (including the teriffic Christopher Jackson – read our interview here), show why they're the most energetic and inspiring group of actors on Broadway. Holler If Ya Hear [...]
http://www.dailyactor.com/2014/07/watch-cast-broadways-holler-hear-perform-california-love-gma/
http://www.dailyactor.com/wp-content/uploads/2014/07/behind-the-scenes-of-dawn-of-the.jpg
Behind the Scenes of 'Dawn of the Planet of the Apes' with Performance Capture Actor Terry Notary
Actor Terry Notary is 1 of 5 actors playing the apes in the new Dawn of the Planet of the Apes. "When you see armies of apes," he says, that's "five of us." Check out the video where you can watch his performance capture work.
http://www.dailyactor.com/2014/07/dawn-planet-apes-performance-capture-actor-terry-notary/
http://www.dailyactor.com/wp-content/uploads/2014/07/melissa-mccarthy-daily-show.jpg
Melissa McCarthy and John Stewart Talk About Terrible Commercial Auditions on 'The Daily Show'
Melissa McCarthy stopped by The Daily Show last week to plug about her new movie, Tammy. She talked about how she loved working with her husband, Ben Falcone (director of Tammy) and then segued into talking about some horrible working situations. The always hilarious McCarthy then started to tell host John Stewart about a particular [...]
http://www.dailyactor.com/2014/07/melissa-mccarthy-john-stewart-commercial-auditions-the-daily-show/