Jesse Tyler Ferguson talks 'Modern Family', improvising on set and audition for the role
From movieline.com
I read that you weren't looking to get back into television when you read the Modern Family pilot.
Right, when I read the Modern Family pilot, that's when I started thinking about it again but yeah, I had a bad experience last season doing a show that just really was not well-received and I kind of — probably because of the writers' strike — it just never came together and it was a really painful process to be involved in. It was just unanimously loathed. And I'm a theater guy, so I had an opportunity to do theater in New York, and then this happened, so that changed everything. There was no way that I could not go in on this role.
It's amazing that 30 pages could change the entire trajectory of your career.
Yeah, and really the whole cast felt the same way. We all had a different journey with it. Mine was fortunately very simple — I didn't have to go in too many times to audition. But Julie [Bowen], for example, was dying to do the show but she was nine months pregnant with twins and the show was not sure how they could work around it. Eric was a really unknown actor and he had to really fight for it. Ty [Burrell] had to test, I think, three times for it. [Modern Family creators] Chris Lloyd and Steven Levitan actually shot a screen test of him in their backyard to show how brilliant he would be for the show because it just was not translating in the room. Even Ed O'Neill — I think he lost the part at one point to another actor [ed. note: it was Craig T. Nelson] and it came back around to him.
I heard that you also initially auditioned for the role of Cameron. How far were you in the audition process before realizing you were a better fit for Mitchell?
It was literally the first audition, and I had been desperate to play Mitchell. I feel like I had probably played Cameron before and it didn't seem terribly challenging for me. I just felt it was more of a challenge to find the humor in his seriousness and his uptightness. And then the first audition with Chris and Steve, they said, "Oh you'd make a great Mitchell too. Why don't you come back in and audition for that part?" And I said, "Well that's what I've been telling people for weeks and no one has been listening!"
I imagine that you have a lot of room to improvise on set. Is there one scene that comes to mind as your favorite improvised work — even if it didn't make it in the final cut?
Well there is that scene where we lock Lily in the car. The scene was supposed to end with us saying, "Did you lock the baby in the car?" and then it cuts out. Everything that happened afterward, with me singing the ABCs and Eric trying to break the window — all of that was improvised. So they definitely let us continue on the scenes usually and a lot of the stuff that we improv after the scene usually ends up in the show. We do lots of takes with just the script though, just in case, because their material is so clear and so funny that you don't want to muddy it too much, and obviously the interviews are very free. They want it to look real. So little snips we have to one and other, that's usually improvised. Also, me and Eric are getting to know each other more and more each week so I think we're becoming more and more comfortable with one another. I think those moments are becoming very real.
The cast is playing this family with so much history and so many complicated relationships. Was there any kind of team-building retreat before you started shooting?
No, is the short answer. It's amazing that such a large ensemble could gel so easily. I mean, they really did take their time finding the right people. But we were never all in the same room with one another. We had readings with our significant others on the show. I had readings with about ten different guys that auditioned to play Cameron — I like to remind Eric that I was cast first every week. But I never met Julie Bowen or Ed O'Neill until the first day of the table read. And it takes a while to build that, but it did not take that long. When I say "a while", I mean maybe 30 minutes, to feel like we really gelled as a cast — which was really miraculous.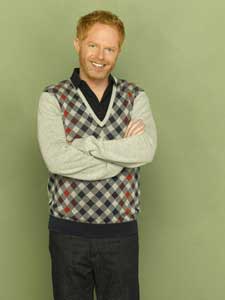 There is a lot of tension between certain characters on the show, especially between Julie Bowen's and Sofia Vergara's characters, that has extended into certain press interviews with the actresses. Is that tension real, are people afraid of them on set?
It's completely not. We all have this amazing, kind of unruly sense of humor. Sofia and Julie have this hilarious dynamic between the two of them. They go out to dinner and they are very good friends but they make fun of each other all the time. When that whole thing happened with the Chelsea Lately show, it was funny, because that is just how the two would be interacting to each other's face. But people with too much time on their hands in front of their computers suddenly created this controversy between the two of them [Ed. note: Those people are so pathetic!], but they were laughing about it together. So there's no tension between the two of them.
Your show has had great luck with guest stars. I know that Fred Willard and Minnie Driver are going to guest star later this season but are there any other guests you're pushing for?
Right — that's as far as we've gone so far but we have dream casting. I know that Eric would love to see Kathy Bates on the show as his mother. We have people we'd love to see come in but we also don't want to destroy the dynamic of the family. We're very fortunate that these amazing people want to be on the show and I feel like they've all enhanced the show in a brilliant, positive way. 30 Rock also does a great job of utilizing stars on its show, but I do think that sometimes it can overshadow the show itself, so we're trying not to get too many illustrious guest stars. It's also just so great to see unknown talent like Eric, who has never been a series regular, given the opportunity to play this amazing part, and he is popping so much on the show. So I think it would be great if we could see more unknown people come in and get a shot. [Cheekily] I speak for the little people.
Will Eric's family be introduced the first season?
I don't know about the first season. We literally just started up on the back nine, so I don't know how far they've plotted out the rest of the season. I do know that we will meet them at some point.
Can you tell us anything about the rest of the season — any big surprises or dance numbers?
[Laughs] Yeah, we adopt another baby. Just kidding. Can you imagine? There's this great episode that actually really hit close to the heart for me. We deal with my dad's uncomfortability with my character's sexuality. Ed O'Neill's character ends up introducing Cameron to his friends as "a friend of my son, Mitchell's." And I get really upset about it, naturally and say, "You would never introduce Phil as a friend of Claire's." It kind of opens up this can of worms between him and me and how much support he really offers me. It ends up being very moving and very touching. Obviously, through the eyes of Chris Lloyd and Steve Levitan and the writer of that episode, it is handled with such care and humor. It actually made me tear up when I read it. Especially in this era of marriage equality, it gave a simple, clear voice to a father and his son. And by the end of the episode, I think it might take a step towards changing a lot of people's minds on marriage and equality and how they view people that are different from them.
Latest Videos
http://www.dailyactor.com/wp-content/uploads/2014/09/audtion-tapes-robin-wright-and-h.jpg
Audition Tapes: Robin Wright and Haley Joel Osment Audition with Tom Hanks for 'Forrest Gump'
Check out Robin Wright auditioning for the role of Jenny from Forest Gump opposite Tom Hanks. Interestingly enough, Hanks doesn't quite have Gump's southern drawl down just yet while the other actors audition with him. In fact, Hanks would base Gump's voice on the voice of Michael Conner Humphreys, who played the young Forrest and […]
http://www.dailyactor.com/2014/09/audtion-tapes-robin-wright-haley-joel-osment-tom-hanks-forrest-gump/
http://www.dailyactor.com/wp-content/uploads/2014/08/bryan-cranston-emmy-award-speech.jpg
Watch: Bryan Cranston's Emmy Award Speech: "I love to act. It is a passion of mine and I will do it until my last breath."
The Emmy Awards weren't the most exciting awards show this year but with Bryan Cranston winning for Outstanding Actor in a Drama for Breaking Bad, we at least got to hear one heck of a fantastic acceptance speech. "I was a kid who always looked for the shortcut," he said. "I did happen to stumble […]
http://www.dailyactor.com/2014/08/watch-bryan-cranston-and-aaron-pauls-emmy-award-speeches/
http://www.dailyactor.com/wp-content/uploads/2014/08/audition-tapes-gerard-butler-aud.jpg
Audition Tapes: Gerard Butler Auditions for 'Dracula 2000′
Check out Gerard Butler auditioning for the role of Dracula in the movie, Dracula 2000. The film, about a group of thieves who break into a chamber expecting to find paintings, but instead find Dracula himself, also starred Christopher Plummer, Jonny Lee Miller and Nathan Fillion. Bulter has some sweet rock star hair, huh?
http://www.dailyactor.com/2014/08/audition-tapes-gerard-butler-dracula-2000/
http://www.dailyactor.com/wp-content/uploads/2014/08/interview-matt-dillon-and-carla.jpg
Interview: Matt Dillon and Carla Gugino Talk 'Wayward Pines'
FOX has a new limited-series that's got a terrific cast and interesting premise. It's called Wayward Pines and stars Matt Dillon, Carla Gugino, Melissa Leo, Toby Jones, Terrance Howard, Juliette Lewis, Tim Griffin and Shannyn Sossamon. The show, whose pilot was directed by M. Night Shyamalan, is about a Secret Service agent (Dillon) goes to […]
http://www.dailyactor.com/2014/08/interview-matt-dillon-carla-gugino-wayward-pines-comic-con/
http://www.dailyactor.com/wp-content/uploads/2014/08/interview-wayward-pines-stars-ti.jpg
Interview: 'Wayward Pines' Stars Tim Griffin and Shannyn Sossamon on the Show, Their Characters and More!
Griffin and Sossamonwere at Comic-Con where they sat in on some roundtable interviews to talk about the show.
http://www.dailyactor.com/2014/08/interview-wayward-pines-stars-tim-griffin-shannyn-sossamon-comic-con/