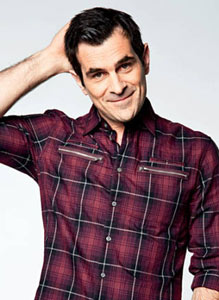 Ty Burrell has found the role of a lifetime as Phil Dunphy on ABC's hit sitcom, Modern Family.  He won an Emmy last year for his portrayal, and he's been nominated again this year.  But Burrell claims he owes his success to the writers.
He told Arts Beat, "I don't think you have this kind of consistency without really exceptional writing.  One of our cast things, after our table reads, is we all walk back to the soundstage just going, 'Man, I can't believe they did it again.'"
Most of the show is taken from the writers' real lives.  Some is taken from the actors, "but not to the extent that the writers do," Burrell said.  "It's probably 10 percent from the cast and 90 percent from the writers.  As a parent I relate much more to the Mitch and Cam storyline because I have two little kids.  So all the toddler stuff."
But some of Burrell has leaked into the character.  "I have a tendency, when I either get stressed out or very excited, I become really blinky.  I'm a very blinky creature at the extremes of my moods.  So that was in an episode toward the end of the season."
Incidentally, Burrell and the cast of Modern Family are currently involved in a salary dispute with ABC that may affect the current season of the show.
The Emmy's will air September 23.