Jesse Eisenberg on 'Zombieland', OCD & not having "natural" talent
So what's your mood as we approach Zombieland's opening day?
My obsessive-compulsive disorder is out of control right now.
How does that manifest itself?
Well, I touch the tips of my fingers in a weird way; I don't step on cracks; if I'm going onto a new surface — be it carpet to concrete, or concrete to wood, or wood to concrete, any new surface — I have to make sure all parts of my feet touch equally the ground before I touch that new thing. So I'll often hesitate before walking into a new room. You know what I mean?
That's just a manifestation of anxiety?
Yeah.
It's not partially superstition, is it?
No, no. I don't think anything's going to happen.
Has that ever been a problem for you on set?
Um…It's…Yeah. Yeah, yeah. I'll put my hand down to touch something during a scene. It's distracting. It's terrible, just terrible.
Did a director ever point it out to you?
Um…no. I just play anxious people, so it becomes OK.
Zombieland seems quite a departure from the kinds of indie coming-of-age films you've done until now.
It's a bigger movie. It's a character-driven, verbal, funny, specific movie with well-rounded characters. I don't think it necessarily compromises any of those elements that you liked about my previous movies.
So you haven't "gone zombie" on us.
[Laughs] Um, no. It's a really funny movie. There are only four characters in the movie, and each character is not only played by an amazing actor — there's two Academy Award nominees out of the four of us…not me — but the characters are funny, well-rounded and interesting people.
How does your character serve the group?
I play Columbus. All our characters are named from the city that we're from, because Woody's character, Tallahassee, decides that if any of us know each other's names, it would be harder for us to kill one another if we've been bitten by a zombie. So to create some emotional distance, we name each other with what city we're from. My character is obsessed with survival. I have a list of 47 rules of how to survive in this post-apocalyptic zombie world — Zombieland. Woody's character loves the fight, while I run away from the fight. So the two of us team up and kind of influence each other a little bit. I kind of make him a little more cautious and he teaches me to be a little more thrilled with killing zombies.
They think it's brilliant flourishes.
Exactly!
I think that has served you well as an actor. Take The Squid and the Whale, which is my favorite film of yours. Not many movies explore that very specific kind of anxiety divorce manifests on kids — certainly not as well as that one did.
Oh, well I didn't write that. The writer is really, really brilliant. It was very autobiographical.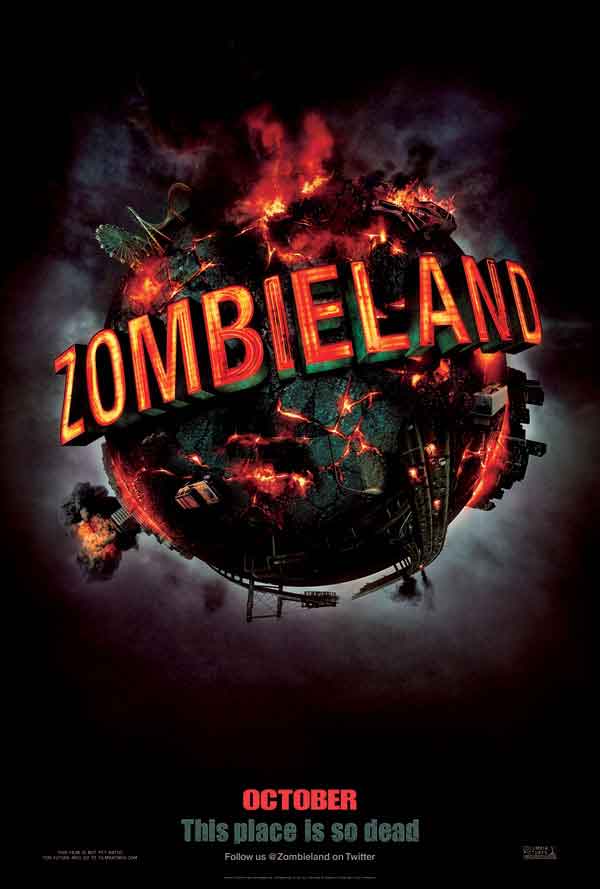 Did you ever foresee a moment in your career when you'd be shoulder-to-shoulder with Woody Harrelson fighting zombies?
No. I never thought I'd be in a movie to begin with. Every time they cast me — and I'm not just saying this out of false modesty or humbleness — like, I'm so shocked every time I get into a movie. And then after the movie is done I think I've totally failed and ruined this interesting movie. The movie comes out and I'm just embarrassed about myself in it.
Can you watch yourself in the films you've done? How do you react to yourself?
I hate watching me. I hate watching me. It just makes me feel awful. I think, I look stupid from that angle. I wish I didn't let them put that shirt on me.
Even after the initial shock wears off, can't you relax and think, "Wow. I really captured something there?"
No. I think I should have done it better or somebody else should have done it. Yeah, you never feel good. And then the times I feel really good after a scene, then I watch it and I'm like, uh, that was boring. From my acting training, you learn to just remain truthful, under what they call "imaginary circumstances." And so the time you feel most truthful is often boring. So often the times you really feel good with a scene don't coincide with the kinds of things one might like as a viewer, you know?
Did you start taking formal acting training after you starred in Rodger Dodger?
No. I was going to Performing Arts School on 48th St. in midtown Manhattan. We had formal acting training there. And I got into that movie because they got me to do a reading of it. The kids in my class were in Raising Victor Vargas, so they were casting for that movie out of our school. So I was studying back then.
It seems like you have trouble, for lack of a better way of putting this, becoming at peace with your craft.
Yeah, that's why I'm in therapy now. I talk about it every week. How to "make peace with the craft." That seems so nebulous. It's like, people who don't study it can get into movies and plays, and people who do study it quite often can't. Friends of mine went to Juilliard and can't get an off-Broadway play, let alone to get a lead role in a movie, and I haven't studied at Juilliard. I mean, it's a very kind of disconcerting profession. If you went to Harvard Medical School, chances are you'll be a doctor at some place. There's a career trajectory. Acting, there's nothing. It's constantly trying to procure jobs — it's very disconcerting.
Is there a part of you that feels, well, hey, maybe I'm just a natural?
No. Because all "natural" is is basically nothing to fall back on. What is "natural?" It's a lack of any basis for anything. It's frightening. It's really frightening. I always feel like I'm five minutes away from getting kicked out of the hotel room that Sony paid for and having them clear out the minibar because I'm not allowed to take anything else.
http://www.dailyactor.com/wp-content/uploads/2015/02/Larry-David.jpg
Larry David on Who he Wanted to Star in his Broadway Play 'Fish in the Dark': "Anybody but me"
"It's one of the reasons I didn't like acting. I don't like not being able to interject" – Larry David on acting with a script Who doesn't like Larry David? Well, to be honest, Larry David probably doesn't like Larry David. In fact, David didn't even want to cast himself in the lead of […]
http://www.dailyactor.com/2015/02/larry-david-on-who-he-wanted-to-star-broadway-play-fish-in-the-dark/
http://www.dailyactor.com/wp-content/uploads/2015/02/Helen-Mirren-The-Queen.jpg
Helen Mirren on Winning an Oscar: "It's an indescribable moment"
"It's hard to say, because you don't know what would have happened if you hadn't won" - Helen Mirren When Asked If Winning an Oscar Changed Her Career
http://www.dailyactor.com/2015/02/helen-mirren-on-winning-an-oscar/
http://www.dailyactor.com/wp-content/uploads/2015/02/anna-chlumsky-james-earl-jones.jpg
Anna Chlumsky on Her Broadway Debut: "For me, it was an opportunity to go in the direction that I hadn't played in a while"
"I think my personality lends itself to ensembles" - Anna Chlumsky
http://www.dailyactor.com/2015/02/anna-chlumsky-broadway-debut-ensemble/
http://www.dailyactor.com/wp-content/uploads/2015/02/joanne-froggatt-downton-abbey.jpg
'Downton Abbey' Star Joanne Froggatt on Creating Her Own Backstory and How She's "Not a Big-Budget Hollywood Type"
"They want the model type, classically beautiful, and I'm not" - Joanne Froggatt on Working in Hollywood
http://www.dailyactor.com/2015/02/downton-abbey-star-joanne-froggatt-character-backstory-hollywood/
http://www.dailyactor.com/wp-content/uploads/2015/01/al-pacino-the-humbling.jpg
Al Pacino on Acting: "It becomes such a part of your nature you rarely ever think about quitting"
After working infrequently in film over the last decade, Al Pacino appears in several films released in 2015, including The Humbling, an indie drama directed by Barry Levinson.
http://www.dailyactor.com/2015/02/al-pacino-on-acting-it-becomes-such-a-part-of-your-nature/