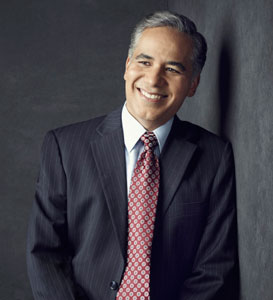 Actor John Ortiz is back on TV. He will hitting the small screen on Jan. 23 in FOX's new show Rake with Greg Kinnear. The series focuses in on a Los Angeles defense attorney, played by Kinnear, who can't seem to stay out of trouble. Ortiz plays a fellow lawyer who's a gambler in love with a prostitute.
Off-beat characters like this are familiar territory to Ortiz who first hit the big screen as a drug dealer in Carlito's Way in 1993. He even went on to the Great White Way in 2003 in the Pulitzer Prize-winning show Anna in the Tropics. The show also starred Jimmy Smits and David Zayas.
The 45-year-old actor reflected on his varied career with the New York Daily News, "I feel blessed. I never wanted to be an actor. It just happened all by chance and fate. I was studying to be a teacher."
Things seemed to have worked out quite well for the Ortiz because he's still in the game decades later.
He said, "I decided to give it a try, and 20 years later, here I am doing something that I never in a million years imagined myself making a career out of. I always felt that, without trying to sound too hokey, I was just a part of it… that it was a gift. And I still feel that way. And sometimes I have to remind myself of that."
It's also something he doesn't take for granted though. He's grateful for a career that has given him incredible opportunities.
"Yeah, I think I was given a talent, and I've been able to nurture it and feed it, and hone in on those things and work on some of my weaknesses," Ortiz explained. "But for the big-picture part of it, it still is a true blessing."