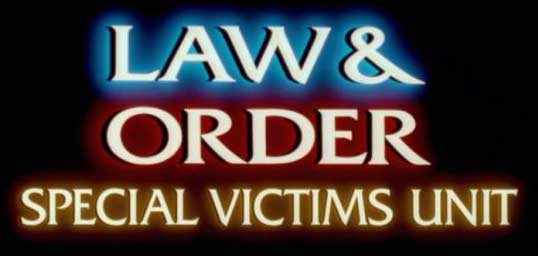 While a police procedural show like Law & Order (and its many spinoffs) has a core cast, the nature of the show often requires dozens of guest stars per episode as victims, suspects, witnesses, and villains.
Luckily the original Law & Order (which ran from 1990 – 2010), Law & Order: Criminal Intent (2001-2011), Law & Order: Trial By Jury (2005-2006), and Law & Order: Special Victims Unit (which is currently in its thirteenth season) are set and primarily produced in New York City, and a large number of guest stars have been cultivated from New York's rich theater scene.  Open up any Playbill from a New York stage production and you'll likely see at least one cast member with Law & Order experience… or perhaps most of them!
In fact, executive producer Warren Leight believes that casting New York theater actors has managed to set the series apart from similar shows.  He explains, "One of the reasons Law & Order has lasted is the quality of its acting and it's a type of acting different than in L.A.  Theater actors will do the same investment (in their characters) they do when doing a play — build a back story … wonder about motivation. … I know when they get there, they will come in with ideas." 
With the average episode of Law & Order requiring 15 to 35 performers in addition to its regular cast, Law & Order has employed dozens of New York stage actors who are in-between parts.  Then again, since some of those roles might only require one day of shooting, appearing on Law & Order can net an actor a quick payday that the capricious world of theater can't guarantee — including residuals (although Sam Turich, who has appeared in a few episodes, mentions that some of the residuals can be as small as 14 cents!)
Part of the reason why Law & Order seeks theater actors for its small parts is because of speed: with scenes shot in Manhattan often limited by the amount of time available to shoot, an actor with theater experience can often nail the part in fewer — or even one — take.  It also helps that stage actor can shoot different takes a single scene while effectively maintaining a consistent performance. Leight points out,  "Those (actors) have a lot of control of their instrument and technical skills I like.  Making it work night after night after night (on stage), you get the ability to produce it over and over and over."
While Special Victims Unit remains the final Law & Order show still airing, New York actors can take a sigh of relief — the show has been renewed for a fourteenth season.
Via Pittsburgh Tribune