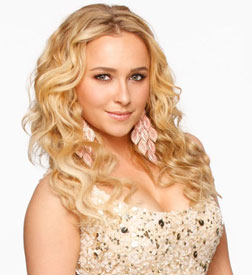 It's hard for a teen star to navigate the waters when transitioning to a career as an adult actor. For Hayden Panettiere, there were a few bumps in the road, but the actress understands that it was all a part of the process.
In an interview with HuffPost Entertainment, the 24-year-old ABC star talked about the differences between her Nashville character and her breakthrough role on NBC's Heroes.
"Nashville was perfect timing with the perfect character," the petite actress said. "Juliette is so not the good girl that I played on Heroes, but she has to put on the facade as a good girl to get what she wants. Juliette is tough, but when she cries, she means it: She's a very damaged young woman running from a dark past. How much more perfect could I ask for?"
Panettiere relates to her Nashville role because she grew up in the spotlight.
She revealed, "A lot of what I've drawn from is my own personal experience. I grew up in the entertainment industry, in the spotlight, and have had to deal with some of the same struggles. In this business, there are so many doors wide open to walk through and it looks like the normal thing to do. The difference is, I've always had people around me to yank me back before I went too far."
Even though she's been on two successful shows in the last decade, her career did hit a dry spell. Like many actors, she started to doubt her talent, but securing the role on Nashville quelled those fears.
"It hit me like a ton of bricks: There is a genuine possibility that no one will ever take another chance on me. That was an important gap between Heroes and this show, a huge transition to make gracefully. I don't know how gracefully I did it, but somehow I did," explained Panettiere.
Nashville airs Wednesday nights at 10 p.m. EDT on ABC.