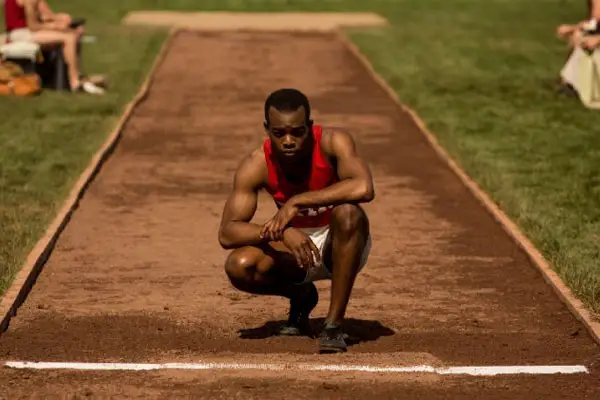 When you have a life as legendary and accomplished as Jesse Owens, making a film around his life has got to be difficult. The man broke so many racial barriers and was (and still is) a hero that filmmakers, director Stephen Hopkins (Lost in Space) and writers Joe Shrapnel and Anna Waterhouse, surely felt a need to cover every detail in his rise to glory. And rightly so. But, life isn't made for film and Race unfortunately doesn't live up to Owens' legacy.
The story starts at the beginning of Owens' (the terrific Stephan James) college career where he meets his coach and mentor, Larry Snyder (Jason Sudekis). The two form a bond and forge a path to the 1936 Olympic Games in Berlin, where he comes face to face with Hitler's view of the world. It's a tremendously uplifting story in real life and the film version has quite a few good moments as well, particularly Stephan James (Selma) performance as Owens. He's got the confidence and swagger of someone who knows how good he is yet the humility he had to have at the time.
Sudekis, who is in what I think might be his first non-comedic film role is really good as well. For his first few scenes, I was almost expecting him to crack a joke or two but once I got over that, he turned in a sedate, non-showy performance. He's the typical coach in sports movies; he drinks a too much and is a bit of a hard ass but eventually the two become friends. It's really the story of Owens and Snyder, the bond they form and their determination to make it to and win in Berlin.
The film also follows the bureaucrats of the day (William Hurt and Jeremy Irons) and their quest to make sure that the games are held in an appropriate manner, with what is happening in Germany.
As I said earlier, the filmmakers want to stick as closely to his life as possible. But, whenever we get some really dramatic moments, say for example, the Olympic Games. When Owens is displaying his almost super-human abilities, Hopkins brings the film to a halt with a scene with German athlete, Luz Long (David Kross). The two begin as adversaries on the field but later turned into life-long friends as we find out later. It's an interesting moment and I'm sure it happened this way in real life, but as an audience member, it brings all that tension and anxiety of the games to a grinding halt. When we finally get back to the final event, getting back to that emotional state takes a bit of effort.
The film is entertaining, especially if you're a history buff. And, just to relive a brief moment in time, it's well worth watching.
Race, also stars Eli Goree, Shanice Banton, Carice van Houten, Chantel Riley, Jonathan Higgins, Barnaby Metschurat, Jeremy Ferdman and Giacomo Gianniotti. It opens Friday February 19th.