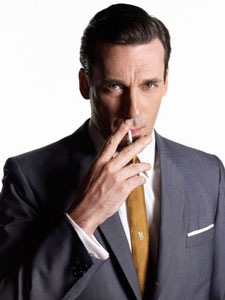 Regardless of what substances Hollywood stars might use behind the scenes, while they're on camera they're obviously not using real drugs.  So what do Hollywood prop masters reach for when they have simulate drug use on screen?  As The New York Post reveals in a really fascinating article, different prop masters have different tricks. 
Gillian Albinski, the prop master on TV's Homeland, reveals that Hollywood cocaine is a relatively simple combination.  She says, "It's usually cornstarch, but you have to put a bit of baby powder into it, because starch is too sticky and heavy."  However, prop master Michael Bates, who has worked on films like The Dark Knight Rises, Horrible Bosses, and The Fighter, points out that they have to switch substances if an actor is actually going to snort the "cocaine."  He says, "I always use powdered lactose. You can snort it for real, and it doesn't affect you. It's just a milk product." He reveals that on the set of Horrible Bosses Colin Farrell even snorted it off-camera to stay in character… which sounds ridiculously suspicious to me.  Anyway, to prevent the actor from snorting too much, the inside of the straw can be coated with vaseline, which most of the powder will stick to.
Heroin is a similar combination but Kim Slosek, was was the assistant prop master on The Inevitable Defeat of Mister & Pete and numerous television series, points out that while she uses a blend of milk powder and Inositol for "dry" heroin, it doesn't look right when cooked. In that case, Slosek says she then uses sugar and baking soda, and Bates says she uses gelatin or bouillon.  As for the injecting part, prop needles work a lot like old prop knifes — as the needle is pressed into the skin, it retracts into the tube.
Pot is typically replaced by oregano, but Albinski admits that actors have tried to switch the prop with the real thing.  She confesses, "I was constantly fighting to take away their real bags."  Other prop master use actual marijuana that just doesn't have THC. Slosek points out the importance of even making bong water look realistic, remarking, "You have to make it believable.  There's probably going to be someone smoking bong hits while watching the movie, and they'll say, 'Why did they do it like that? That's not believable.'"
Now you know what to tell the cops next time you're busted: don't worry officer, that's just milk powder!