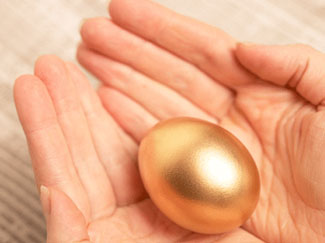 Up and coming actors often take survival jobs in the restaurant industry, temping at an office or even babysitting kids. The latest trend in New York City is in an entirely different field and it's quite lucrative for the actresses that participate.
There are egg "agents" who are looking for models and actresses to donate their eggs for couples who are undergoing in-vitro fertilization. The highly profitable gig is definitely one way to make money, but it isn't for everyone.
28-year-old entertainer Robyn Young has gone this route before. She explained to the New York Post why she decided to donate her eggs.
Young said, "I didn't want to be a stripper. I wanted to figure out my career, so there was really no other choice at the time."
Her first donation earned her somewhere between $8,000-$10,000 in 2009. Once she participated, her name wound up in a database of donors. Now she is actively recruited by agents for her green eyes and her athleticism.
She didn't stop at one procedure though, she's in the process of doing it a third time.
"I waited a year and a half for the second one. I kept saying no, no, no and finally said OK," she shared.
With the third round just beginning, the performer is already being asked about a fourth procedure.
She explained, "I haven't even started with the hormones for this one, and [the agent] is already trying to get me to sign the contract for the fourth."
While this sounds like an easy way to make money, there is an entire process to acquiring the money. The first round begins with an interview with multiple couples until she is selected.
A background check is also rendered to confirm academic history, a psychiatric exam to check mental health and a blood test. If a donor has an extremely high SAT score, they stand to earn up to $20,000.
After the donor clears these hurdles, the hormone round begins. Young usually takes hormones for two to nine weeks to increase her egg production. The harvesting of eggs can also be a painful procedure.
Young revealed, "You're put under for about 20-30 minutes, and afterwards you feel sore, bloated and just want to rest."
Donors are allowed to do this process up to six times. They may never know the outcome. Sometimes the eggs are frozen for future use, but the donor signs a waiver releasing them from ever knowing the true results.
While not everyone in her circle of family and friends is supportive of her choice, Young is not hiding the fact that she is an egg donor.
She said, "Everyone said don't tell anyone, and I said, 'If I'm going to give a gift, I'm not going to be ashamed.' Knowing you're giving life is what gets me through it."
Would you ever donate your eggs to support your acting career?