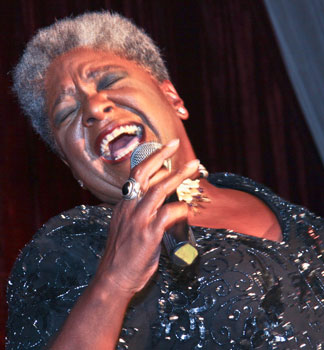 In days of yore, when Broadway shows had real out-of-town tryouts, news would trickle in from Philadelphia, New Haven, or Baltimore about next season's hit. Today, the news from Washington is most encouraging, and appropriately about a show brimming with nostalgia. Though the Kennedy Center's new production of Follies can hardly be deemed a tryout (as no Broadway run has yet been announced), it has all the makings of a smash in any town. The cast of Stephen Sondheim's cult backstage musical includes Bernadette Peters (Sally Durant Plummer), Elaine Paige (Carlotta Campion), and Linda Lavin (Hattie Walker), who will portray the stars of a long-forgotten revue reunited in their old stomping ground. Among those performers, many of them fresh from Broadway runs, is the indomitable, irresistible Terri White in the role of Stella Deems, a down and out hoofer who now runs a store in Miami.
The character has particular resonance for White, familiar to theater goers from Cy Coleman's Barnum and the long-running Nunsense, who herself was absent from Broadway for two decades and even homeless for part of that time. Last season saw her reemerge on the big ring radar in the latest revival of Finian's Rainbow. Like Stella Deems, Terri White is back to strut her stuff.
But White's interpretation of the character is not just drawn from personal experience; it also has a lot to do with history. White recalls the TOBA (Theater Owners Booking Association) circuit, which specialized in African-American vaudeville acts. Performers offered an alternate meaning for the  acronym: Tough On Black Asses.
"Knowing the history of black performers," White explains, "actual follies didn't have black female dancers. If you were black, you only did a specialty act—if you were lucky. I put that knowledge into Stella." The great black actresses of those early days are not far from White's mind, especially Ethel Waters, whose career was also fraught with highs and lows. Putting herself in Stella's shoes, White projects what must have been going through her character's mind, " 'I just can't do this anymore. The jobs are getting worse, the locations are getting worse. I'm hanging up my tap shoes.' " The same thoughts may well have occurred to White during the turbulent recent years of her career.
White, a tap dancer and singer of vaudevillian versatility, praises the production's choreographer, Warren Carlyle.
"My tapping finally paid off!" she declares, wondering whether she is not the first tap dancing Stella in a major production. Sondheim himself also paid a visit to the first run through, and was reportedly delighted with what he found—though with seasoned disciples like Bernadette Peters onstage, that hardly comes as a surprise. White also singled out Linda Lavin's "Broadway Baby", which she assures will bring fresh brilliance to the oft-heard song.
Following last season's A Little Night Music, an annual burst of revived Sondheim does not seem like a bad thing  at all. Perhaps Ms. Peters, who beguiled Broadway in that production, need only change her costume. With the likes of Terri White and other Broadway Babies joining the fray, Washington is in for a treat. Stay tuned!
Follies runs at the Kennedy Center's Eisenhower Theater May 7 – June 19.