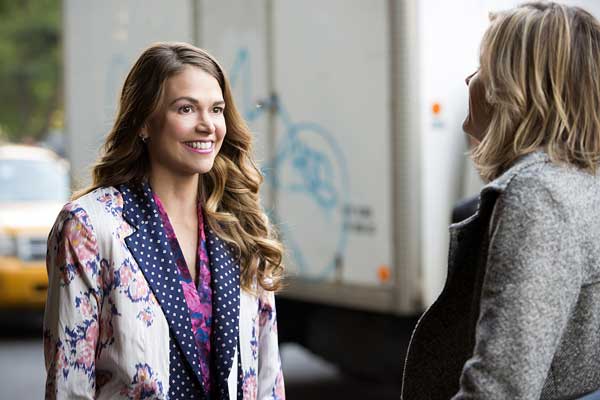 "Even when I'm not working, I'm still working on something because I just want to create something." – Sutton Foster
Sutton Foster is known to many for her work on the Broadway stage, where she has been nominated for six Tony awards, winning twice; once in 2002 for playing the lead in Thoroughly Modern Millie, and once in 2011 for Anything Goes.
An incredibly talented actress, 40 year old Foster can now be seen on TV Land in Younger, where she plays a 40 year old woman struggling to make it back into the workforce. Liza decides to reinvent herself as a 26 year old in order to gain a job at a Manhattan publishing company, and events unfold from there.
It's a storyline many women (and men) will be able to empathize with. Ageism in the workplace is surprisingly common, and many women struggle to find a good job when they have finished raising babies.
Foster says the 40 year old her would tell the 26 year old her to "Chill the f*** out," and adds that the show isn't necessarily trying to make some kind of statement, more like it's pointing out the lengths people will go to in order to secure work.
"When I first headed into this, I never even thought about ageism," she tells the WSJ blog, Speakeasy. "I just turned 40 this year, and the concept of that is even catching up to me. I really didn't start talking about any of this stuff until I started doing press for the show and people were asking questions about it and I was like 'oh, sh*t are we making like some statement?'
I always think of the Tootsie analogy. Dustin Hoffman didn't get cast as a man, so he made himself a woman to get the part. Liza couldn't get hired as a woman, as a 40-year-old, so she pretends she's 26 to get a job."
Despite already working on season 2 of Younger, Foster also confirms that she has every intention of returning to Broadway. In news that will delight her fans, she says it's not a case of if, but when.
"I would love to [return], of course. I have some irons in the fire. The foray into TV land – and TV Land – has been a really nice change of pace for me and a nice break. Theater will always be my number one passion, so I'm just waiting for the right project. I have some pots percolating, so we'll see. "Younger" is in first position, so now that we know our shooting schedule, we'll be able to figure something out. Younger films for only three months, so maybe after [season two wraps]I could do something. We'll see. 
"I think I'm a better human being when I'm creating something. Whether it's working on a TV Show, or a Broadway show, or working on music or drawing or cooking, or decorating, it's like something creative, I feel like my life has purpose and meaning, and without it I feel lost. So everyday has to have something like that. So even when I'm not working, I'm still working on something because I just want to create something."