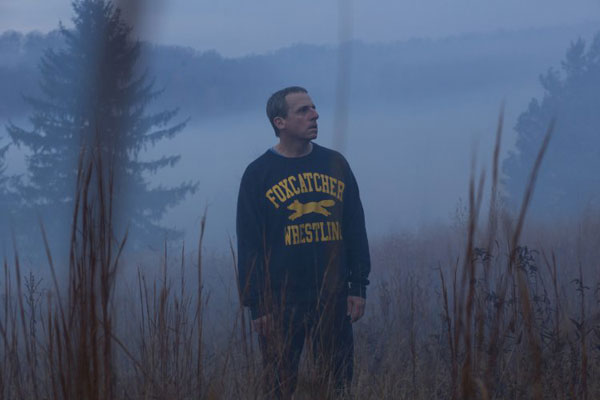 Those that go see Foxcatcher thinking it is a typical Steve Carell movie will be in for a major surprise. In the film Carell stars as E. I. du Pont, the real-life perplexing multimillionaire who used his millions to sponsor the Olympic wrestling team, including Olympic gold medal winning brothers Mark and Dave Schultz (played by Channing Tatum and Mark Ruffalo, respectively). In an interview with The New York Times, Carell spoke about how he ended up playing a role so outside his comedy wheelhouse, how he connected with du Pont's isolation, and his thoughts on leaving The Office.
Though the role is completely different from what audiences would expect from Carell, he confesses that he wasn't seeking a particularly different role. He explains, "It wasn't anything I was lobbying for. I wasn't looking for dark, moody, dangerous characters to play."
In fact, Carell claims the role has nothing to do with attempting to increase his profile as a dramatic actor. He says, "I don't care if people take me seriously. But I'm glad to be given the opportunity to try different things." Nonetheless, later Carell points out that nobody would consider him for dramatic roles if he didn't take the plunge and pursue them. He explains, "You can tell people you're capable of doing something, but that doesn't mean anything. If you go out and take some chances, then you might be offered other things that are even greater chances."
The heavy makeup that Carell wore as du Pont — which was designed by Bill Corso (who won an Oscar for the makeup for Lemony Snicket's A Series of Unfortunate Events) — that transformed Carell into the odd-looking du Pont helped him understand the isolation that du Pont felt, but the happy-go-lucky Carell confessed that he had trouble connecting with du Pont's inner rage.
Another method Carell used to feel du Pont's isolation was by maintaining an "emotional distance" between him and Tatum on set. Carell recalls, "We didn't put on our Method hats and get all weird and actor-y. But we both felt that it was best to keep apart from one another and to not really engage personally."
Naturally, Carell's career will always be associated with The Office, the NBC sitcom he starred in from 2005 to 2011 (he memorably returned for a cameo in the 2013 series finale). Carell speaks lovingly of the series, but explains that he needed to branch out on his own. He says, "Loved it, best job ever. But at certain points, you just want to jump out into the abyss and see where you land.It doesn't always work out, but making that leap is an exciting and liberating thing to do."