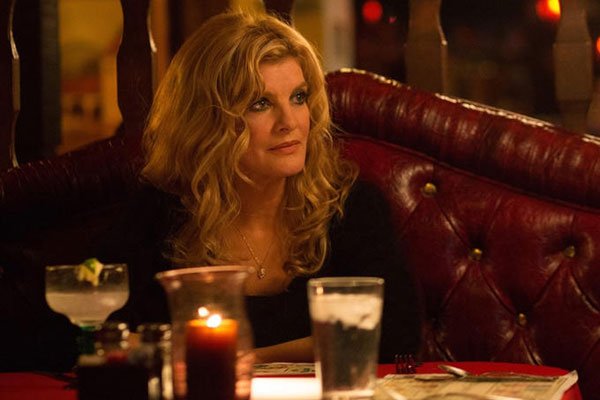 Rene Russo is back on the big screen thanks to a role of lifetime in the film Nighcrawler, directed by husband Dan Gilroy. The 60-year-old actress portrays an overnight news director who will stop at nothing to get the story. Her work is aided by the equally immoral news stringer, played by Jake Gyllenhaal.
She spoke to Vulture about her character's dark side. "Where in myself could I find an honest place where I could portray her? I think that was more difficult for me, just trying to find out, "Who the hell are you, Nina?" [Laughs.] Because I didn't really know her, at least at first," she says. "It actually took some time for me to get there. At first, I went to Dan and I said, 'I think Nina needs some work!' I could not plug into her at first and she was kind of a terrifying character to play."
Russo is extremely thankful for the juicy role her husband bestowed upon her. It was the perfect character for her to sink her teeth into.
"I got a good role, and I'm really thankful to him. I haven't worked in a long time, so it's nice to have a challenging role. I think part of the reason I didn't work [as much]was you don't want to do just another watered-down role that you've already done before. I love being in my garden, and I started a little business, and as much as I appreciate the opportunity that I've been given as an actress, it does come with a certain amount of fear and trepidation! [Laughs.] It's been my life, and I've just met amazing people, but it's also been kind of cool to not work for a while as well," she explains. "And if the parts aren't there, I just can't. You can't get up at 4:30 in the morning and sit in hair and makeup if you're not excited about the role."
Russo has been largely absent from the film industry after working nonstop in the 1990s. A lot of it has been her personal choice to step back.
"I guess my biggest struggle in my career has been a certain reluctance to actually work as much as maybe … How can I say this? I've been offered opportunities that I didn't take. I probably haven't embraced my career like I could have. I think part of it was just who I am as a person," says Russo.
She jokes, "I'm probably the only actress in Hollywood who is kind of happy when my agent doesn't call and have a job for me!"
Nightcrawler was released on Oct. 31, 2014.