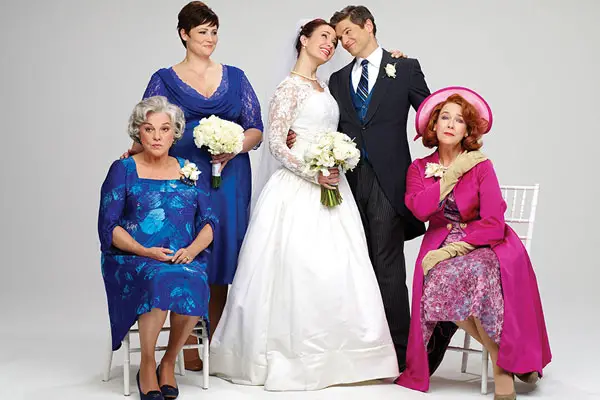 Stop me if you've heard this one before. So a Jewish woman is marrying a Catholic man…
Well, at first look it might seem that It Shoulda Been You is yet another Broadway musical comedy about a wedding (or the opening to a long joke about an interfaith wedding). With Honeymoon in Vegas and, of course, the old standby Mamma Mia! currently on Broadway and dozens of other wedding-related musicals that have been on Broadway in the past, it would seem like it would be hard for writers to come up with a new spin on the "everything goes wrong" wedding plot. But Brian Hargrove (book and lyrics) has based the show around a clever twist that you won't see coming. You have to wait for it, but it completely makes the show. And while I'm not going to tell you what it is, I will tell you that it should dispel any inkling you might have of dismissing It Shoulda Been You as just another wedding-themed musical comedy. Don't make that mistake!
Another thing you might not know about It Shoulda Been You is that though the first three names on the poster are those of Broadway vets Sierra Boggess (who seems to have finally found an original role that she can sink her teeth into), Tyne Daly, and Harriet Harris (who are both powerhouses, and seeing the 69 year-old Daly doing eight shows a week is inspiring), the real star of the show is Lisa Howard as Jenny, the sister of the bride. Howard isn't a newcomer – she appeared in South Pacific, 9 to 5, and Priscilla Queen of the Desert – but she's never had an opportunity to really show what she can do on stage since she doesn't have the look of someone who'd be cast in the lead of Phantom of the Opera (unlike her co-star, Boggess). Her songs (with music by Broadway first-timer Barbara Anselmi) are the most memorable of the show, and her character is the one with the most dimensions. While some of the supporting characters are relegated to rather one-dimensional comedic roles, that makes Jenny stand out as a character even more.
This musical is also the Broadway directorial debut of Tony Award-winning actor David Hyde Pierce. Pierce's own experience with musical comedy likely influenced the on-stage zaniness that goes on throughout the show. It Shoulda Been You breezes by (it's only a single act and has no intermission), so there's no room for anything to drag under Pierce's direction.
It Shoulda Been You is now in previews and will be opening on April 14. For more information about the show, visit the website and social media sites:
When you buy tickets, use the discount code PSF1 at Ticketmaster.com to get seats starting at $59!