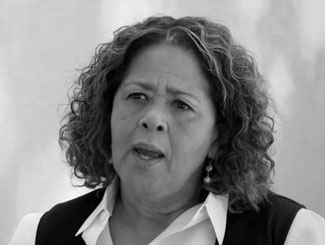 Pulitzer Prize winner and Tony Award nominee Anna Deavere Smith has never been one to wait for her career to happen. She knew early on that she was going to have to make opportunities for herself in the entertainment industry.
Her first agent never knew how to submit her for projects as an actress. She asked the young talent "Will you go as black or white?"
As a result of that agent's lack of understanding and vision, Smith shared, "What I've created in my career is the ability to play anybody."
She continued, "I flipped it. I decided that even if I didn't look like anything or I didn't belong anywhere, I would proactively try to cause other people to belong. I've been performing now for all these years without regard to race and gender. Except for, of course, when I have an opportunity, like I sometimes do, to be in mainstream media."
TV fans know the 62-year-old's work well from her recurring roles in Nurse Jackie, The Practice and The West Wing. As a playwright and performer, her work has been renowned for her hard-hitting subject matter in shows like Twilight: Los Angeles about the 1992 riots.
Playing all of the characters in her one-woman shows actually came out of a "practical need" because she didn't have the funds to pay multiple actors. What she didn't realize is that by doing it all herself, she created a "more humanitarian kind of initiative" through her work.
Smith revealed, "If one person can embody such different points of view, such opposite sides of the battle or the war. Maybe you in the audience can see things a little bit different."
Via The Atlantic