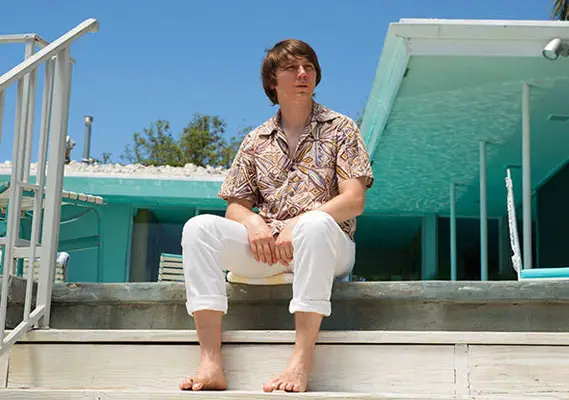 "Learning to play Brian's songs, without question, brought me closer to the character.

" – Paul Dano on playing Brian Wilson in Love & Mercy
Though most musician biopics lean heavily on the "rise, fall, and comeback" narrative, perhaps no musician's life is more suited for that structure than the Beach Boys' Brian Wilson. After being the primary voice and songwriter of the most popular American band of the 1960s, Wilson's psychological problems, drug use, and commercial failure of several of his projects led to a startling mental breakdown that eventually led to Wilson being under 24/7 supervision of controlling therapist Eugene Landy. Love & Mercy focuses on Wilson's life during two periods — the 1960s, during Wilson's most fertile period as a songwriter, and the 1980s, when Wilson was under the strict control of Landy. While John Cusack plays the elder Wilson, Paul Dano plays Wilson during the musical sessions that produced Pet Sounds. In an interview with the Wall Street Journal, Dano speaks about why playing Wilson was one of the most enjoyable roles he ever had.
Dano points out that learning about the Beach Boys was the most fun research he's ever done for an acting role. He says, "There's probably nothing more fun to research than the Beach Boys, 1960s Los Angeles. I'll probably never find a better acting job. I did a lot, but it's the music. Listening to the music, listening to the studio sessions. Even more important was learning to play the songs. Learning the piano a bit and working on my voice. Learning to play Brian's songs, without question, brought me closer to the character. Music is one of the most universal arts there is. Brian is his music."
When Dano got the opportunity to actually meet with Wilson, he spoke to the pop legend about his musical legacy. Dano adds, "I was so obsessed with the music. My first instinct was not to grill him about every detail in his life. Just to touch base with his presence, his spirit. Whenever music came up, he lights up."
After spending so much time researching Wilson, Dano felt compelled to nail the part. He explains, "I really fell in love with Brian so quickly, I wanted to do everything I could to capture his spirit."