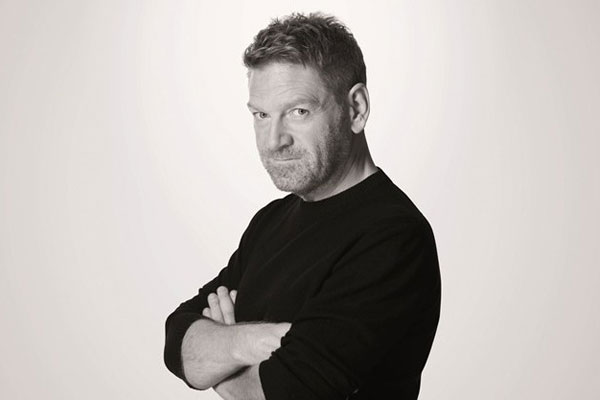 "When I was 17, I saw Derek Jacobi playing Hamlet; it was transcendent, but it didn't put me off playing Hamlet – it inspired me to play Hamlet." – Kenneth Branagh
Actor and director Kenneth Branagh has announced he is to return to London's West End to take up a year-long residency at the Garrick theatre.
The newly formed Kenneth Branagh Theatre Company will stage five plays during the season; including Branagh directing his former Cinderella stars Lily James and Richard Madden in a production of Romeo and Juliet.
Branagh believes James and Madden have a "passion for Shakespeare" that will draw a younger audience to the theatre that has seen them in Cinderella.
"For a long time I've wanted to land in a place, to have a creative home where you could do a programme of work, rather than just one-offs," Branagh said when unveiling the season which has been two years in planning.
When asked why he chose the Garrick to showcase his work, Branagh revealed that the intimacy of the venue appealed to him. "We wanted a playhouse. We wanted somewhere where our intimate and naturalistic approach to Shakespeare could be heard, where people could, in a 700-plus-seat theatre, see the whites of your eyes, but where the stage is just big enough to give us the epic quality some of these plays may need. Our intention is to engage with the audience."
The first play to be staged will be The Winter's Tale, starring Branagh as Leontes alongside Dame Judy Dench as Paulina. Branagh will direct with Rob Ashford. At the same time, in a smart move, the company will also be staging Terrence Rattigan's comedy, Harlequinade, about a theatre company attempting to stage The Winter's Tale and Romeo and Juliet.
These productions will be followed by Francis Verber's The Painkiller, starring Branagh with popular British actor Rob Brydon. Romeo and Juliet will run May through August 2016 and the season will conclude with John Osborne's The Entertainer.
The Entertainer is seen by many as rather a brave choice, considering the lead role of Archie Rice is considered by many to have been the greatest role Laurence Olivier played in his lifetime. However, Branagh doesn't shy away from following in the footsteps of the greats of British theatre; in fact, he says it is an inspiration.
"When I was 17, I saw Derek Jacobi playing Hamlet; it was transcendent, but it didn't put me off playing Hamlet – it inspired me to play Hamlet."
He describes Osborne, whose work is not as fashionable as it once was, as "unique" and says he is eager to see the audience's reaction to the play.
"His theatrical invective is unique, and to see how that unleashes itself on an audience in 2016 is going to be really interesting."
The announcement of this season is an incredibly exciting prospect for London theatre goers, and tickets are already selling fast but the proof will be in the plays themselves of course. Branagh acknowledges that he has taken a risk in his choices, but says he hopes to repeat this venture in the future.
"We are asking the public to take a few risks with their hard–earned cash. Audiences are sophisticated, and they have so many choices of where they may spend their money, how they may get their entertainment."
Via The Guardian