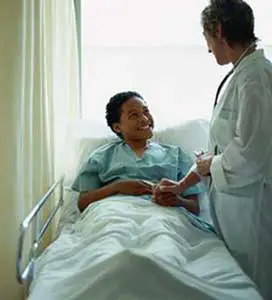 Classic sitcom Seinfeld is already credited with popularizing phrases like "Spongeworthy" and "Not that there's anything wrong with that," and now you can add yet another to its laundry list of cultural contributions.
A 1998 episode found Michael Richards' Kramer taking a hospital acting gig as a gonorrhea patient, and now, according to The Wall Street Journal, more and more medical centers have begun hiring actors to portray patients and, in the process, help train medical students.
"Forget waiting on tables or doing menial jobs. These days, to support themselves between gigs, or simply keep plying their craft, actors are auditioning at hospitals and medical schools to portray sick people — 'standardized patients' in med school terms—who help aspiring doctors learn their craft" reports WSJ's Lucette Lagnado. While the practice existed before Seinfeld brought it into the mainstream, its current prevalence can be chalked up to 2004 ruling that made student interaction with fake patients a requirement.   The gigs typically pay well (Weill Cornell Medical College in New York's Upper East Side pays $25 per hour) and offer actors a unique opportunity to portray various symptoms.  "I have done heart attacks, lupus, diabetes, Parkinson's, hot flashes," says New York City actress Denise Lock. "At least you're acting on some level."
Part of the reason why actors are sought to simulate a patient's medical issues is safety.  Dr. Yoon Kang, director of Weill Cornell Medical College's Margaret and Ian Smith Clinical Skills Center, says that "In simulated environments, students can practice and make mistakes—no one is going to get hurt."  In fact, the whole process is more question-and-answer based rather than any actual medical procedures – after all, the whole idea of the simulation is to have the students correctly diagnose the patient's problems before suggesting possible cures.
Just like any acting gig, however, playing a patient can have its drawbacks.  Actor Kevin Orr explains, "They will poke you—and they will keep poking you.  My record is being poked seven times. I want to tell them to stop."  Of course, sometimes the actors take the part too seriously: Dr. Kang believes that overacting by the patients is often intimidating.  He says, "We want stars but we need to temper their star quality.  We don't want the Laurence Oliviers to take too much dramatic license."  Dr. Kang recalls an instance when an actor playing an elderly patient took the role too literally, bringing a cane along and swung it all around like a cranky curmudgeon.
But success can be had.  Neal Mayer, who has frequently worked with Dr. Kang's students, has appeared on stage in Broadway, off-Broadway, and national tours.  Still, he can recall the most awkward moment he's had as a "patient": as Lagnado writes, "Mr. Mayer says a first-year medical student once asked if he was pregnant. When he reminded her he was a man, she simply repeated the question."
That certainly wasn't a question that Kramer had to face!