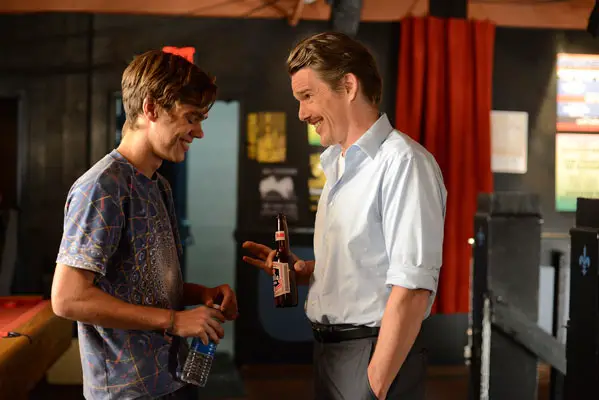 Ethan Hawke is riding high with his fourth Oscar nomination for the Richard Linklater-directed Boyhood. In a recent "Ask Me Anything" on Reddit, the 44-year-old actor gave some thoughtful insight into his career and the 12-year creative endeavor that became the biggest film of the Oscar season.
When asked what was the most difficult thing about a 12-year filming schedule with Boyhood, Hawke replied, "Being patient."
"I… from about 3 or 4 years in, realized that this was the most special endeavor of my life. And in the last 12 years that we were making it, there have been many ups and downs in my career. And sometimes, when I would have a down period, in the back of my mind, I would never let myself get too down, cuz I was working on the best film of my life," he wrote. "I just had to be patient and wait for people to see it."
This was the eighth film Hawke has worked on with Linklater and it's proven to be a successful partnership. However, it's not something he can always put into words.
He said, "It's a little bit of a mystery, and I'm scared to talk about it, because I don't understand it. I remember when I first met him, I was in a play with one of the cast members of DAZED & CONFUSED. DAZED hadn't come out yet, but Rick and I started talking after the performance, and all of a sudden, 6 or 7 hours went by. And that doesn't happen very often. And we've been kind of talking like that for 20 years now. Perhaps it's cuz… we have a similar background? Perhaps a shared obsession with time? But really, in truth, I don't know and I try not to ask because I just want to keep doing it."
What's really sweet and revealing in the actor's AMA is his memory of his first day on a film set with River Phoenix and how the lights in his eyes almost ruined his career.
"My first day on a film set, I was 13 years old, and I was doing a scene with River Phoenix. And the lights were so bright that my eyes wouldn't stop tearing. I just… kept looking like I was crying. And the director kept having to stop shooting, to try to give my eyes time to adjust. And then I felt like I was really going to cry, because i was so worried that my great dream, that I was going to be an actor, was going to prove impossible, because my stupid eyes wouldn't stop crying. So it was a terrible day.So things have been improving since then," he wrote.
Yet his need to be in the entertainment industry is really pretty simple. It's all about love.
He summed up, "I think what motivates me is… really… just loving it? And I kind of believe that one of the things we're all here to do is to tell each other our stories. And so we can see – on a much broader landscape – we all go through life with such a tiny point of view. This little keyhole of our immediate friends and family. And the more stories we get told – the more we get a glimpse into other people's keyholes. And we can start to see a larger reality. And I know there are a lot of meaningful ways to spend a person's life. But this is the only one I've ever shown any aptitude for. And so I've just followed that."