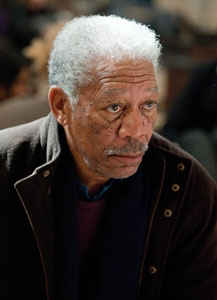 Morgan Freeman won an Academy Award® for Best Supporting Actor for his role in Clint Eastwood's Million Dollar Baby, for which he also won a Screen Actors Guild (SAG) Award® and received a Golden Globe nomination.
In 2009, he reunited with Eastwood to star in the director's true-life drama Invictus, on which Freeman also served as an executive producer under his Revelations Entertainment banner. For his portrayal of Nelson Mandela in the film, Freeman garnered Oscar®, Golden Globe and Critics' Choice Award nominations, and won the National Board of Review Award for Best Actor.
Freeman has been honored with three additional Oscar® nominations, the first for his chilling performance in the 1987 drama Street Smart, which also brought him Los Angeles Film Critics, New York Film Critics, and National Society of Film Critics Awards, and an Independent Spirit Award for Best Supporting Actor, as well as his first Golden Globe Award nomination. He earned his second Oscar® nomination and won Golden Globe and National Board of Review Awards for Best Actor for the 1989 film Driving Miss Daisy, in which he recreated his award-winning off-Broadway role. He gained his third Oscar® nod, as well as Golden Globe and SAG Award® nominations, for his performance in Frank Darabont's 1994 drama The Shawshank Redemption. Among his many other accolades, Freeman was named a Kennedy Center Honoree in 2008, and, in 2011, was honored with the 39th AFI Lifetime Achievement Award, and the Cecil B. DeMille Award at the Golden Globe Awards.
In The Dark Knight Rises, Freeman reprises the role he played in Christopher Nolan's Batman Begins and The Dark Knight. Freeman has several films upcoming, including the thriller Now You See Me, under the direction of Louis Leterrier, and the science fiction actioner Oblivion, in which he stars with Tom Cruise.
Freeman's long list of film credits also includes Dolphin Tale; RED; Rob Reiner's The Bucket List, opposite Jack Nicholson; Robert Benton's Feast of Love; Ben Affleck's Gone Baby Gone; Lasse Hallström's An Unfinished Life; the Jet Li actioner Unleashed; the comedy Bruce Almighty and its sequel, Evan Almighty; The Sum of All Fears; Along Came a Spider; Nurse Betty; Deep Impact; Steven Spielberg's Amistad; Kiss the Girls; David Fincher's Se7en; Glory; Lean on Me; Harry & Son, directed by and starring Paul Newman; and Brubaker. He also lent his distinctive voice to such projects as Spielberg's War of the Worlds and the Oscar®winning documentary March of the Penguins.
In 1993, Freeman made his directorial debut on Bopha! and soon after formed Revelations Entertainment. Other Revelations productions include Levity, Under Suspicion, Mutiny, Along Came a Spider, Feast of Love, 10 Items or Less and Maiden Heist.
The Memphis-born actor began his career on the stages of New York in the early 1960s, following a stint as a mechanic in the Air Force. A decade later, he became a nationally known television personality when he created the popular character Easy Reader on the acclaimed children's show The Electric Company.
Throughout the 1970s, he continued his work on stage, winning Drama Desk and Clarence Derwent Awards and receiving a Tony Award nomination for his performance in The Mighty Gents in 1978. In 1980, he won two Obie Awards, for his portrayal of Shakespearean anti-hero Coriolanus at the New York Shakespeare Festival and for his work in Mother Courage and Her Children. Freeman won another Obie in 1984 for his performance as The Messenger in the acclaimed Brooklyn Academy of Music production of Lee Breuer's The Gospel at Colonus and, in 1985, won the Drama-Logue Award for the same role.  In 1987, Freeman created the role of Hoke Coleburn in Alfred Uhry's Pulitzer Prize-winning play Driving Miss Daisy, which brought him his fourth Obie Award. In 1990, Freeman starred as Petruchio in the New York Shakespeare Festival's The Taming of the Shrew, opposite Tracey Ullman. Returning to the Broadway stage in 2008, Freeman starred with Frances McDormand and Peter Gallagher in Clifford Odett's drama The Country Girl, directed by Mike Nichols.