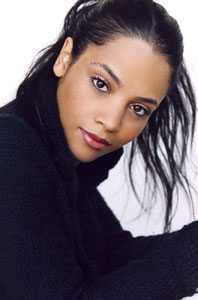 Ageism and Hollywood is a tale as old as time. However, what happens if the actor gets older, but the characters they play stay the same age? That's exactly what is happening with Bianca Lawson's career.
The 34-year-old has been in the business since she was a teen. Many viewers will remember her from her role as Megan Jones in Saved by the Bell: The New Class. She began that show in 1993 at the age of 14.
Since then, she has moved on to other TV and film roles like Buffy the Vampire Slayer, Dawson's Creek, Save the Last Dance, Vampire Diaries and currently, Teen Wolf. While Lawson has had a few birthdays since then, her characters have not.
We've seen older actors play teens on the big and small screen before. Gabrielle Cateris was 29 years old when she first appeared on 90210 and as Uproxx.com pointed out, "Stockard Channing was 34 when she played 18-year-old Rizzo in Grease."
We knew those actors were older than the younger character they were portraying, but with Lawson, it is believable that she is still in her teens. It's amazing to see how little she has changed in photos from 1995 in her first breakout role to her current role on the MTV show where she actually plays an adult. Her most recent teen role was on ABC Family's Pretty Little Liars in 2012. There are a few Hollywood actors who are jealous of her anti-aging face.
Other actresses who seemed to have been blessed in the youthful gene pool include Stacey Dash who portrayed Dee in Clueless on both the big and small screen for over five years, while Julia Louis-Dreyfus has barely aged from her Seinfeld years. Being able to play a teen has clearly helped Lawson throughout her prolific career. There's barely a blip on her IMDB page.
We all want to know her secret.