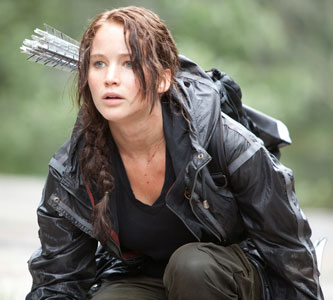 A natural talent, with a striking presence and undeniable energy, Academy Award® nominee Jennifer Lawrence has established herself as one of Hollywood's most promising young actresses.
Jennifer recently wrapped production on David O. Russell's "The Silver Linings Playbook," alongside Bradley Cooper and Robert De Niro. Based on Matthew Quick's novel, the film revolves around a former high school teacher who was institutionalized for depression and is then released into the care of his mother. He tries to win back his ex-wife but becomes involved with a bizarre neighbor (Lawrence) who also has a history of mental problems. The film will be released by The Weinstein Company on November 21, 2012.
Jennifer was recently seen in Drake Doremus' "Like Crazy" opposite Anton Yelchin and Felicity Jones.  The film won the Grand Jury prize at the 2011 Sundance Film Festival.
In April, Jennifer will be seen in Relativity's "House at the End of the Street" opposite Elisabeth Shue and Max Thieriot.  This past summer, Jennifer was seen in Matthew Vaughn's "X-Men: First Class" as Mystique, starring opposite Michael Fassbender and James McAvoy.  She also starred alongside Mel Gibson and Anton Yelchin in "The Beaver," directed by Jodie Foster.
Previously, Jennifer's performance in "Winter's Bone" garnered her a 2011 Oscar® nomination for Best Actress in addition to nominations from the Screen Actors Guild Awards, Golden Globe® Awards, Independent Spirit Awards and Critic's Choice Awards. Additionally, she was honored with the Breakthrough Actress award by the National Board of Review, the Rising Star Award at the Palm Springs Film Festival, and the New Hollywood Award at the 2010 Hollywood Film Awards. The critically acclaimed film, directed by Debra Granik, also received an Oscar® nomination for Best Picture, Best Adapted Screenplay and Best Supporting Actor in addition to winning the 2010 Grand Jury Prize at the Sundance Film Festival.
Other film credits include a lead role in Guillermo Arriaga's directorial debut "The Burning Plain," opposite Charlize Theron and Kim Basinger. The film premiered at the 65th Venice Film Festival where Jennifer won the Marcello Mastroianni Award for Best Young Actor. She also starred in Lori Petty's "Poker House" opposite Selma Blair and Bokeem Woodbine, for which she was awarded the prize of Outstanding Performance in the Narrative Competition at the 2008 Los Angeles Film Festival.
On television, Jennifer co-starred on three seasons of the TBS series "The Bill Engvall Show." Written and created by Bill Engvall and Michael Leeson, "The Bill Engvall Show" is set in a Denver suburb and the comedy follows the life of Bill Pearson (played by Engvall), a family counselor whose own family could use a little dose of counseling.
Reigning from Louisville, Kentucky and a childhood of local theatre experience to her credit, Jennifer traveled to New York at age fourteen to explore a professional career in acting. She quickly caught the eye of casting directors and started acting in film and television during the summer of 2005 and hasn't looked back.
Biography/Filmography courtesy of Lionsgate and The Hunger Games