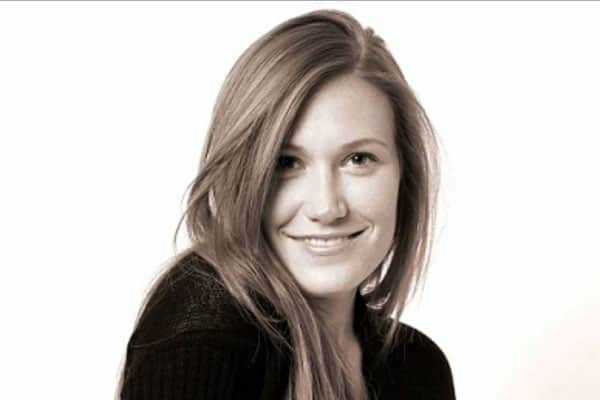 Actress and singer/songwriter, Schuyler Fisk (Orange County, Restless), stars in Lifetimes new Christmas movie, Every Other Holiday, about a single mom of two girls and their Christmas wish to spend the holidays with the whole family, including her ex-husband, played by David Clayton Rogers. It's a feel good movie that is sure to be on heavy rotation during the upcoming holiday season.
Fisk, who is the daughter of Academy Award-winning actress Sissy Spacek and production designer Jack Fisk, talks about the film, her acting career, playing a younger version of her mom and a couple of pretty bad auditions.
These Christmas movies on Lifetime, people are completely obsessed with them. I have friends who just sit and watch them nonstop during the holidays.
Schuyler Fisk: I know, I'm one of those people! When they start having them on continuously, Lifetime and Hallmark, I just have them on. They're comforting and it's nice. It makes you feel it's really the holidays.
Yeah, you're so right. Lifetime has a little mistletoe up in the corner. It just makes you feel Christmas-y.
Schuyler Fisk: It tells you how many days away from Christmas you are. I downloaded an app on my smart phone so I can watch anywhere I want at any time it's fabulous.
It's probably going to be on every year now, which is great. When you're filming a Christmas movie in July, does that mess things up in your head?
Schuyler Fisk: We filmed in February in Nashville so it was supposed to be cold and feel like legit winter. But it was really warm, I mean, they had to add a lot in post-production. I mean, it felt like summer. So, we're traipsing around in all these layers and hats and coats and jackets. It was strange to be filming… to be pretending it was Christmas in February, but at the same time I kind of got into it. It was like, the house where we were filming most of the scenes were decked out in lights and Christmas trees and it looked like Christmas. So I was really into it. I really embraced it.
Do you ever watch your own stuff? Like, this year, obviously, it's gonna be on probably a million times, are you going to sit back and check out what you've done?
Schuyler Fisk: Well, I did. I saw the movie a few weeks ago which was awesome. But I don't typically sit around and watch my own stuff, no. I mean, sometimes I don't even watch it at all. But this one was really nice. I really enjoyed it. But you know as an actor, you watch something and you're like, "Wait, why did I do it like that?"
Oh yeah, I'm totally like that. You've also got a really nice music career going on. How do you focus on both? How do you balance the two at the same time?
Schuyler Fisk: I don't know. I just sort of go with whatever is going on at the time. For me that's been working on my record and touring whenever I have time and I'm not filming a TV project. Then, because of that, I've sort of stopped and started this current record that I'm working on three times. But it's actually been a really nice thing to be able to take a break from it and go back and do it in spurts has been, actually, a pretty cool thing. I've never taken this much time to actually make a record before. I think it's given me some perspective while I'm still making it, if that makes any sense.
You played a younger version of your mom on Castle Rock recently.
Schuyler Fisk: Yes.
Obviously, you're incredibly qualified to do that, but how did that come about?
Schuyler Fisk: Well, I made a joke when they were like, "Oh, we have some flashbacks." And, I was like, "I can just play a younger version of you." No, I don't know. I guess they just knew of me and that I was an actress and it would be a cool thing. And it was. We shot it up in Concord and I had a very small part of the show, but it was really neat to be a part of it all.
Everyone has this big over the top impression of their parents. I know if they asked me to do that with my dad, I'd be like some big, goofy characterization of him. How did you tone it down?
Schuyler Fisk: Well, my mom's character had a Maine accent for that project. Originally, I wasn't gonna have any lines so I felt pretty confident. And then I got up there and they're like, "Oh yeah, okay, here are your lines." I was like, "What?" But then she had a dialect coach named Tom Jones and he worked with me and helped me. And luckily she was there, so I had a great resource.
What was the job that you your SAG card?
Schuyler Fisk: So, when I was a kid when I was really young, before I had any what I would call 'real roles', I did a lot of small day player parts of the films that my parents were working on. I was obsessed with being an actress and any time they would let me do it. So, I did a little thing my dad directed, _____, when I was really small. There was a movie that my mom did called, Teen Mom, that my mom did and I got to be the friend next door and I said one line. I asked if they wanted a kick ball. I think that might have been it because I had a line. I could believe it. It was the best day of my life. I got my hair and makeup done. I was probably like, seven or eight. Oh, it was great.
What has been either your worst or most embarrassing audition?
Schuyler Fisk: Oh gosh, there's so many. Let me think about that. I mean, I've had a lot of really bad auditions. There's so many and the more you do, the easier they get.
I had one, it was kind of a good and bad audition. I auditioned for a pilot many, many, many years ago and the casting directors really liked me. The studio didn't think I was like was like, pretty enough or sexy enough, something like that. I was kind of like, "Okay, that's fair. That's good, I don't need to try anymore or fight for it." But the casting people really wanted me to do it. They were like, "No, I really think you can do it. We want you to do it. We wanna prove to them you're sexy enough." I was like, "Okay."
The two casting directors, they say go buy a push up bra and they brought in all their sexiest clothes, cause I didn't have anything like that. Short skirts and these high heels and tights. I don't even know. And they gave me a makeover in the casting office. It was really sweet and meant something because they were really pulling for me, but it was humiliating kind of because I had a network test for all these executives and I felt so strange because I had these casting people's most "sexy stuff." They'd done my makeup, my boobs were up in this push up bra. It was just… oh, my gosh, I don't know, uncomfortable. That was an experience
But I've had so many where I've gone in and you just have an out of body experience. You forget your lines… Sometimes when you watch DVD's and you can watch auditions, like Freaks and Geeks?
Oh yeah, those are great.
Schuyler Fisk: Yeah, aren't they? But I'm always like, "Oh my God, if they uncover some of my auditions I will just die."
I do have an audition that's slightly worse. I was in this casting office for this part and I hear in the waiting room, they were talking about a person who was already cast. And so I'm like, "I'm pretty sure this part's cast." I hear them definitely talking about it. I was waiting for like an hour. Someone came out and they're like, "I'm sorry what are you here for?" I told them, they brought me in but, yeah, I'm pretty sure it got cast. It was humiliating because I actually had a great audition but it was completely pointless.
For more info on Schuyler's music: schuylerfisk.com