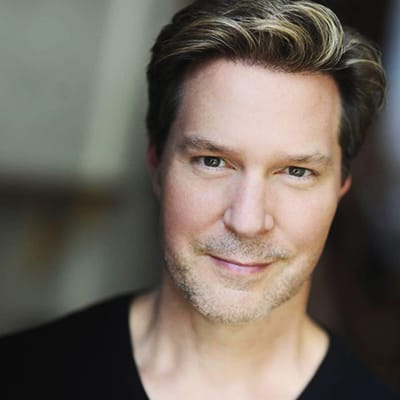 Broadway veteran Ron Bohmer has been on tour with The Book of Mormon for over 5 years, around the time the musical embarked on its First National Tour. That time has felt "like a breeze," he said. And it's no wonder, the show, where he play's Elder Price's father, is probably as much fun for the actors on stage as it is for the audience.
Bohmer, who's also starred in The Phantom of the Opera, Les Miserables and Ragtime, talks about his time with The Book of Mormon, staying healthy while on tour, the strangest thing that's ever happened to him on stage and his rule for auditions.
When did you join The Book of Mormon?

Ron Bohmer: August of 2013 at the Kennedy Center. The Kennedy Center will always be special to me, it's where I first met my wife Sandra Joseph – we met on the stage of the opera house when I joined the national tour of THE PHANTOM OF THE OPERA – I was starting as the Phantom, she was Christine.
When you first auditioned, could you ever have imagined that you'd be with it for so long?
Ron Bohmer: I've been with Book of Mormon over 5 years, the only thing I've done that comes close to this long of a run was Broadway's LES MISERABLES at the Imperial (2 1/2 years). I think the piece I couldn't have imagined when I auditioned was that I'd still feel fulfilled in my role here after this much time. So much of the business brings up real or imagined feelings of inadequacy – am I good enough, am I valued? There can be a kind of "looking over your shoulder" in high-stakes, expensive productions and it's unsettling.
From my audition for BOM to this day, I've felt nothing but valued and appreciated by the creatives, the producers, the cast and crew. I'm treated like a collaborator. It's rare and it shouldn't be. Our producer, Anne Garefino (who is a first time B'way Producer with his show, though she's produced for Matt [Stone] & Trey [Parker] for years) basically said to our management team at Thompson Turner Productions that she wanted everyone who works here to say this is the best job they've ever had. She's done it. So 5 years feels like a breeze.
How do you manage to still keep your role fresh for every performance?
Ron Bohmer: Well, it certainly helps to have brilliant material. Going under the hood, I think our practice is truth. Comedy is truth, things are funny when they are true. So you're searching all the time, listening, looking for it, stripping away what doesn't support it. This is challenging in theatre, particularly musicals, because there is a craft to sharing this in a way that lets the audience in without tipping into presentation. It's a balancing act that you get good at but only by practicing. And the best practice is not with new material where impulses are flying, but on well-covered material where habits want to creep in. It's like a NBA player practicing endless free throws, you're chasing mastery in the details and the discipline.
What's the most challenging part of the show for you?
Ron Bohmer: The cumulative effect of 8 shows a week combined with travel. It's hard on the body. Doing a performance in front of an audience has a massive energy exchange, so it's invigorating. But the knees, the back, they have to absorb the shock and it's costly. I started Prolotherapy on my knees after my 1st year and it's been a lifesaver.
What do you do to keep from getting sick or losing your voice? I have 2 little kids, so I'm all ears on this one!
Ron Bohmer: Yeah, it's especially hard with kids, I went through that too. My friend, Mark Jacoby (he was a Phantom before me and Tony nominated for his Ravenal), told me a story of being at his son's preschool as a volunteer during flu season, being super careful about hand washing, etc. not to get sick – it was story time and one of the little kids sat on his lap and shoved his little fingers right up Mark's nose!
The usual – handwashing,  ridiculous amounts of water, lots of vitamin D (10,000 mg a day in winter). I like the zinc sinus spray. The unusual – I steam a lot, right over the pot the water was boiled in with a towel, be careful doing this, but it works wonders for sinus and throat moisture. When traveling, I use a Humidiflyer (Google it), you get over the "wearing an oxygen mask" thing quickly when you prevent that fatigue, dryness and virus exposure airplanes are notorious for. Have a good ENT for when you do get sick, In San Diego, I see Dr. Liu, he gets it with performers and having to get through a show.
How was your time working at The Old Globe? 
Ron Bohmer: Magic. Sandra and I had recently moved to SD. I remember being scheduled for the meeting/audition in SD (I was on a 6 month break from BOM). They said, please meet us in the Alcazar Garden and someone will escort you to the Rehearsal hall." I arrived and it was literally, a garden. I'd spent 25 years waiting in folding chairs on concrete floors under fluorescent lights in NYC. I thought, I'm never leaving. This must be what making theatre in Heaven feels like. It was. The artistic caliber in San Diego is staggering and I couldn't have asked for a better introduction to it. I want to be there often.
What's the weirdest thing that's ever happened while you've been on stage?
Ron Bohmer: RAGTIME, B'way revival. I was Father, Christiane Noll was mother. We're on the beach (on the stage of the Neil Simon in NY), our marriage is in crisis, we are fighting over the presence of Coalhouse's son in our family whom our young son Edgar is holding in the scene. The baby the young actor is holding is a dummy. I'm heading off to the under-siege Morgan Library to be a volunteer Hostage, perhaps never to see them again, it's tense and fraught. Christiane says, "Say goodbye to your son." He walks up to me with the baby-dummy in his arms and says "Goodbye Father", and I hear thunk! The audience starts howling with laughter. I look down. The baby's leg has fallen off. I hold. And hold. Finally, there is silence. I bend over, pick up the leg, place it in my son's hand and say, "Goodbye, Edgar". The audience applauds and we do our best to re-enter them into our reality. I'm an easy mark for laughing on stage. I credit Christiane with the steel to get through this.
What's been your worst or most embarrassing audition?
Ron Bohmer: I'm the rare freak who actually enjoys auditioning. I feel like they should be embarrassing, so I lean into it and usually try to celebrate them. My rule for auditions is: there's so much that is out of your control, so give yourself a goal for the experience that you can control. Was I present? Did I keep my sense of humor? Do I remember the names of people I was introduced to? Accomplishing simple tasks of genuine presence while in an extraordinary and nerve-inducing experience feels like a big victory to me.
Ron Bohmer is currently on tour with The Book of Mormon, now playing in San Diego. For more tour info, click here.