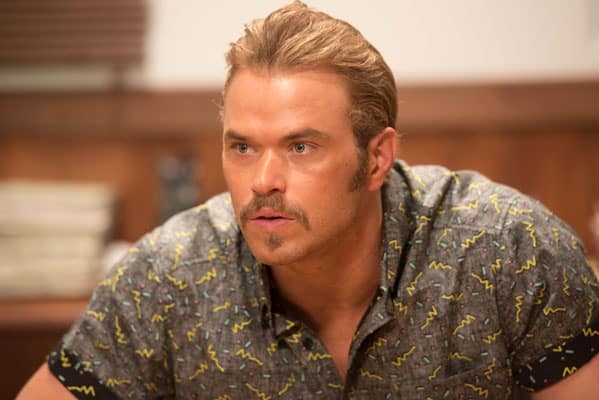 "As soon as I'm in Robbie's clothes and my hair is done and everything, as soon as I'm Robbie, you're just naturally in the head space of the character." – Kellan Lutz
Kellan Lutz stars alongside John Travolta in Speed Kills, about Ben Aronoff, a speedboat racing champion and multimillionaire whose past life as a drug trafficker comes back to haunt him. Lutz plays Robbie Reemer, a hot-head of a guy, who becomes a thorn in Aronoff's side.
In this interview, Lutz (Emmett Cullen in Twilight films, Expendables 3) talks about his role, working with Travolta and his decision to move to LA and become an actor.
I love your first entrance in the film. That must have been fun to do.
Kellan Lutz: Yeah. That was really fun. The car wasn't as fun because I can drive stick shift but that car kept on dying on me and it's tough when you only get so many takes.
But yeah, it was really fun and bringing Robbie to life, the character, he's based off a real life character and in true stories from the book. And doing the research that I did with Robbie, he just seemed like that sort of guy who, and he would be I guess, if you're the son to a mob boss, you'd give no F's and you'd just do whatever you wanted because you're untouchable and a bit egotistical and boastful. It was really fun. I liked it a lot.
How did you go about doing research for the film? Did you research the real guy?
Kellan Lutz: Yeah, yeah, we had a lot of the rights. I'm still a little bit confused about it, because that's his real name, Robbie Reemer, and so you just put him in Google and seeing the stories that come up because he got arrested and he went away for a while. So you have some testimonies of how Robbie was.
And the cool thing about it, the end of the story, there's been some conspiracies as far as who killed Ben Aronoff. Some people say it was Robbie Reemer seeking revenge, others think it was a hired hit man. So, it's a bit uncertain and I don't believe it's been found out yet who actually did it. I think that someone came forward and said that they did but you never know if the mob paid him to do that, to take the hit. You just never know.
So it was really cool playing this character, having some characteristics of him that I could embellish on and make my own. I haven't really played too many historical figures. Also, playing a character in the '70s was really fun. I got to have a mustache and cool side burns, it was fitting. It was just fun. It's fun to put the clothes on of the '70s and act in that time period.
And he's a big hot head. How do you get amped up to play these scenes?
Kellan Lutz: As an actor, it really just helps to look like the character. I feel like the harder ones are the ones where it looks like Kellan in real life. But when I'm able to, I guess Johnny Depp kind of does this to the extreme, he creates this character and then as he is putting on the make up and the clothes… You just look different, so you can feel different, you think different. So as soon as I'm in Robbie's clothes and my hair is done and everything, as soon as I'm Robbie, you're just naturally in the head space of the character. So, that's my process for it.
How was it working with John Travolta?
Kellan Lutz: What a dream. Like in all honesty, he is one of the sweetest, kindest icons or legends that I've worked with and I've worked with so many of them, especially from The Expendables 3. But, he's just such lovable man.
I remember being on set and he was just fun to improv with. I asked him if we could play around in the scene and he was like, "Yeah, Kellan, do your thing and I'll play with you." He was very reactive, very present. When he pushed me into the bay in the marina, for that one scene, we had one take and afterwards most actors would do your action scene and walk back off to your chair. As soon as he pushed me, he was saying, "Are you okay?," before I even hit the water. So I pop up, he was like, "Kellan, are you okay? Are you okay? Did I push too hard?" To have John Travolta seeing if I'm okay… Like how cool is that? That just speaks highly of the man that he is and it would be a dream to work with him again.
And he just brings so much to it. He's such a brilliant actor. He's always bringing something new. He's very emotionally present. It was just fun to watch him do his thing.
Does he snap out of the character between scenes? He's an intense guy in the film.
Kellan Lutz: No, that's why I really admire him because he's not Ben Aronoff through the whole thing. I mean he's just really open. He and I had so many great conversations. But he would have a really irate scene and then he'd just turn into that teddy bear where he'd ask me questions, I'd ask him questions. Very much an actor. He just doesn't have to be method acting. He doesn't have to live in the shoes of the character from our movie, that I saw. He's very quick and easy to pop back and forth.
You're from Arizona. When did you make that decision to move out to LA? Had you always wanted to be an actor?
Kellan Lutz: No, no, I didn't have a dream to be an actor. I didn't know you could act as a profession, as a career. I didn't watch movies growing up or TV or read magazines. I thought Brad Pitt was this fictitious, Prince Charming guy. I don't know. I was just very ignorant where I grew up. I just had other priorities. I was always outdoors, always playing sports.
And actually what drew me to LA, was my father, after my parents separated, he moved to California. I'd visit my father a couple of times a year and I just fell in love with California. I had the blonde hair, blue eyes, the beach was there. I love the beach, I love the weather. Arizona is super-hot in the summer. And so I really had this itch to live in California. A lot of our friends called me the California Kid.
And so once college resumes were sent out, I got a full ride for chemical engineering and football to Chapman. And once I was going through the school process that summer, I realized that I just… I don't know…I was really great at sports but I just never… I was doing some modeling at the time and that turned into some commercial auditions and I just found a passion for this acting thing and my passion for chemistry just wasn't as intense as my passion for acting at the time. So I really had to make the decision. And I knew that I couldn't do them both. And I just never saw myself going to college, if that makes sense, in a weird way. So I just put it aside and followed this new passion at the age of 18 and I never looked back.
What's been your worst or most embarrassing audition?
Kellan Lutz: Oh, man. There's so many. You get some really funny scenes. I remember in the earlier years of my career, acting out any sort of sexual scene and I think there' was this comedy, maybe it's for National Lampoon? I don't know. In an audition room where there's four walls and usually just one chair, it's hard to do a sex scene in a way when it's just yourself. And I remember there was a couch there and I was like, "Hey, can I use the couch?" And they were like, "Yeah, sure." And then you're just, you're doing your thing, trying to say your lines and it's just all sorts of awkward. I would have loved to have been the casting agent in that room, because it would be funny watching so many actors try and do a scene like that. And I just know that after that audition, I went out and I'm like, "I don't know how anyone does this." Because it wasn't embarrassing, it was just weird, you know? It was just weird.
Speed Kills is in theaters and VOD now.