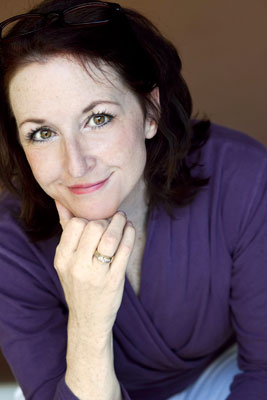 Kate McClanaghan is a casting director and producer with over 30 years of experience in the world of voice-overs. She's also the founder of  'Big House Casting & Audio' and 'Actors' Sound Advice,' a site where you can get advice on producing your demo reels and how to find voiceover work on your own.
I got a chance to chat with her about how to start a voice-over career, where to find work, the biggest mistakes new voice-over actors make and more!
What are the first steps someone can do to start their voice-over career?
Kate McClanaghan: You need to train.
First, you need to discover what's involved with this industry. What sort of commitment it takes to succeed. You can decide from there if it's really for you, especially considering 90% of your job as a voiceover is getting to and from the booth. You need to learn what's expected of you, and what you're responsible for (that typically goes unspoken). Not determining this essential groundwork could easily account for so many talent having little or no success at all. The fact is, most talent honestly don't know their job and become one-hit wonders for that very reason.
Voice actors need to learn from the very beginning who the players are; in other words, who your client actually is, what they need and want from you, and how to establish and run your small business as a working talent. It's precisely why, (and I apologize in advance for this impromptu "pitch"—I hate going there, but this is why we do what we do…) at Actors' SOUND ADVICE, we begin with our two-hour, one-on-one Orientation, or Career Reboot, as the case may be. Every talent is different and requires a custom-tailored approach, and this service allows for just that from the very beginning.
From there, you need to step into a booth, get in front of a mic with a seasoned professional (such as Jeff Finney or myself, here at SOUND ADVICE), and discover what it's honestly like to bring flat text to life. We offer specific techniques that allow you to develop your self-direction skills. Coaching requires proper conditioning, much like an athlete trains to go the distance. Every skill level requires training that challenges them as a professional and as an artist. It's how you maintain your performance muscle.
There are a lot of sites where people can submit auditions for voice-over work. What are the best ones in your opinion?
Kate McClanaghan: It honestly depends on the individual talent, and their career goals. Not every hat fits every head.
For instance, I recently coached a young SAG-AFTRA actress who's had a great deal of success in episodic TV. She's 22 and aspires to do film. That said, being a working talent requires you diversify your skill set. She needed and wanted to learn more about voiceover, how it applies to Theatrical (TV and film), and whether she can/should expand her skills to all manner of commercial and narrative work, not just voiceover. For her, insuring she has at least 2 talent agents, one in LA and another in either Chicago or New York that offer voiceover is key. She needs to insure her demo(s) are included on her Actors Access page, Casting Network page, Casting Frontier, as well as her agent's web sites. Her agents will also include her on their Voicebank.net pages as well.
Those are all legitimate options for her, coupled with a proper (on-going) direct mailing campaign to casting directors and producers that are most likely to hire her for their projects (commercial, animation, and narrative), will make her name known and associated with voiceover and ultimately determine whether or not she works.
There are, of course, various pay-to-play (P2P) sites, populated primarily by nonunion talent, which are simultaneously a blessing and curse. I say that because on one hand they offer opportunities, and on the other can get voice talent in over their heads by offering more than the talent are honestly able to deliver—all for fear they might 'lose the job' if they don't agree to the overwhelming requests posed by the corporate clients utilizing these sites. Yet, each of these P2P sites offer jobs of varying budgets and the ability to build a client base, provided you're willing to pay as much as a $7000 a year for upgraded access to better paying auditions. That may sound absurd, but that works out to approximately $550 to $600 a month in promotion and marketing. Provided the return is as much as $65,000 to $90,000 in booked jobs, that's not such a poor rate of return for this or any business!
Again, not every site, or agent for that matter, is right for every talent. It's not that cookie-cutter, nor should it be. Every talent has something unique to bring to the table. The objective is to position yourself appropriately to access the work you're best suited to excel in most.
You're also a voice-over producer. When you listen to a bunch of demos, what is it that stands out and makes you want to listen to more?

Kate McClanaghan: The demo should define who this talent is, what they do best, and what sort of work they hope to secure more of—given the examples on their track.
What stands out to me is national caliber production values and an honest point of view, on the part of the voice talent. I want to picture each commercial or narrative, and believe it aired. (Whether it did or not is irrelevant.) I want to simultaneously discover something familiar, and something unique about the individual talent. I want to feel confident I could put this talent into the context they are promoting they do best from this voiceover demo. And then I will likely audition them to insure that's the case.
It's worth mentioning there are a number of dramatic differences between voiceover demos and 'radio aircheck' tapes. Generally speaking, what the radio and broadcast industry considers appropriate doesn't apply to national caliber voiceover work. Nevertheless, I would hope and assume all voice talent, aspiring or established, are aiming to accomplish national caliber work. Even small regional vendors hope their small budget projects are treated with the same professionalism and care as national advertising campaigns. And why shouldn't they?
What's the biggest mistake new voice over actors make?
Kate McClanaghan: It's a common misconception to assume you will be offered much direction as a professional voice talent. Nearly all your auditions will be done from home or on your own, therefore offering the most dynamic choices with each take is essential, if you hope to be a valuable talent. Again, this requires coaching. And that means developing your ability to 'self-direct'. No one can effectively direct you if you don't bring something of value to the table in the first place. That begins with self-direction.
What's the best piece of advice you can give to voice over actors?
Kate McClanaghan: It's been said, "If you don't have time to do it right, when will you have time to do it over?" Save yourself the frustration, and get trained first. Then invest in yourself and your voiceover demo(s). Cheap is very expensive, especially if you have to do it all over again.
Your training, demo tracks, and promotion establish who you are and define what you bring to the industry as a professional.
What are some of the services your site, Sound Advice, offers?
Kate McClanaghan: We're the experts the experts turn to in order to dramatically advance their careers. So much so, we wrote the book on it: The SOUND ADVICE Encyclopedia of Voice-over & the Business of Being a Working Talent by casting director, producer, and Actors' SOUND ADVICE founder Kate McClanaghan.
We coach, career counsel, and produce voice talent of every skill level. Everything we do is one-on-one. We're able to record, coach and advise talent from nearly anywhere in the U.S. provided they have stable Internet service and a reliable computer, and we've effectively done so for more than 20 years.