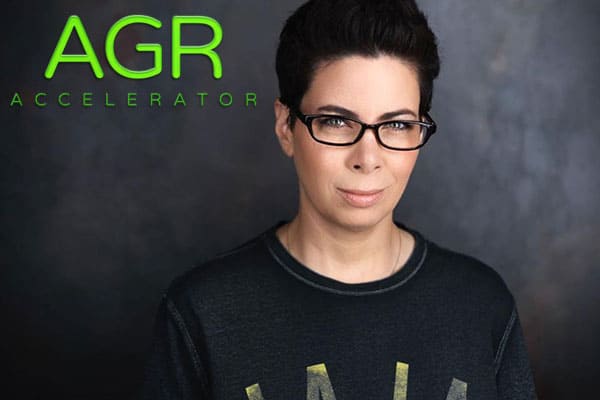 Jen Rudolph, founder of the Actor's Greenroom, has just started the first online workshop for actors. It's called AGR Accelerator and is a membership service for actors who want to get in front of casting directors, agents and managers, all from the comfort of their own home. Considering how busy people are – work, auditions, rehearsals and life in general – it sounds like a terrific idea.
In this interview, Jen talks about the service, why she wanted to start the program and the benefits of becoming a member.
So, tell me how you came up with the idea.
Jen Rudolph: I've always had a vision. I wanted to build a field of dreams for actors. I've been in the business for about 12 years and prior to starting the online business, I was here in New York, I was just in an office and it was great. Our lease was up this year and I thought to myself, "I have a huge community and following, and I want to be a pioneer. I want to break down all the barriers. I want to give people access everywhere without any boundaries, without any limitations. And I wanted to create the first online interactive workshop environment for actors. And I did it.
Tell me about the program?
Jen Rudolph: It's called the AGR Accelerator. It's a membership program and to join accelerator, you pay a yearly rate of $495 or you can pay $49 a month.
What you get with that is you join a Facebook group that is only for the members. You can live audit any one of these workshops. So as they're happening you can watch them for up to, I think we say 36 hours? I would love to leave them longer but because of industry restrictions and whatnot, they have asked to make that the amount.
So, the education that is just available is unprecedented and it's not seen anywhere else. Like, watching other people work and learning about how all these industry people work, it's just unbelievable. And the response so far is amazing. We have agents, managers and casting directors on this online platform.
What I've managed like to do is replicate our format that we used to have in New York City, within the office and now we have it online. It's really cool. I have actors from New York, I have actors from LA, I have one person from Australia right now. I mean, I have people all over the country and outside of the country that are doing these interactive workshops.
How's it going so far?
Jen Rudolph: Right now, since we only started on July 1st we have New York, Los Angeles and Atlanta. We're very rapidly expanding. So far we have about 916 members and we have a group on Facebook which is called the Green Lounge, which is our open group. It's free, it's super engaged and we have about a 12,000 members in there and I'm in there all the time, dropping value, dropping content, engaging with people. So it's rapidly growing.
What does someone need to have on their end to participate in this?
Jen Rudolph: So all you need is a good Wi-Fi connection, the Zoom app, which is free, and a computer with a webcam.
What are the actual classes like?
Jen Rudolph: Well, the class begins with our host, welcoming our students. We explain how it's gonna run. We talk about the rules. We are going to broadcast it into our private members only Facebook group and industry comes on camera, gives a brief introduction. We do a Q&A. Students are able to raise their hands within the class. We can bring them on camera. So our host comes on and then one at a time, each student is brought on and they read with our host or, if they have a reader in their own space, like a friend, then they can be with their friend.
And then while they're reading, this is really cool, the students are watching and everybody in our accelerator group on Facebook, all they see is the actor. The actor is pinned on the screen. And as the actor, all you see is the reader. So if you're reading with our hosts, all you see is that. So it's so cool that we can manipulate what is happening on the screen. Therefore your monitor is just like a part of the workshop.
Then after our actor reads the scene, the industry member comes back from the camera and gives notes. Then it cycles around until all of the actors have a turn. And at the end, we do a wrap-up. Each class is anywhere up to three hours. We top out 16 students. Oh, and after the class we email everybody a copy of the entire workshop.
That sounds very cool. Especially being able to have a copy to keep.
Jen Rudolph: The cost of the membership, like I said, it's just a one-time fee period year, $495 which is the cost of like one plane ticket. And then each workshop usually tops out at 50 bucks. In person in New York, workshops are like over $100 a piece. So, I have them as like half the price with like all the benefits and whatnot and even more benefits.
My main thing was like you can now explore various markets without draining your bank account or expensive travel. One of the things that I've found is that everyone has jobs, everyone has kids, and everyone has families. Everyone wants to be home and the schlepping was just, it's a lot. And for all the single moms out there, all the people that are like, "I just can't get there. I can't get a sitter." You don't have to worry about this anymore.