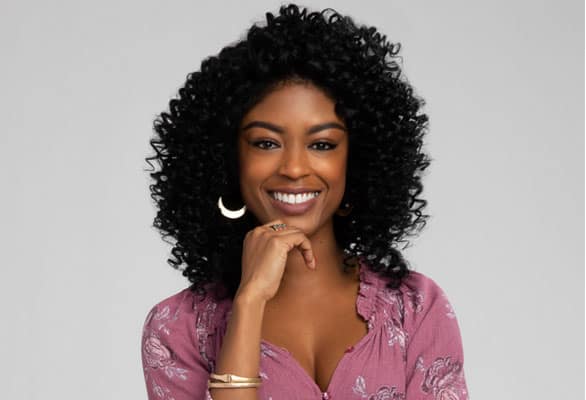 "My worst auditions are self-tapes. Because one, I'm overthinking. Two, I'm doing the same thing over and over and over." – Javicia Leslie
Things have moved pretty quick for Javicia Leslie. She moved to from Maryland to Los Angeles in 2012 and landed a web series. From there, she booked a role in a Lifetime movie, a recurring role on MacGyver and before she knew it, she was a series regular on BET's The Family Business  and CBS' God Friended Me, where she plays Ali, Miles' (Brandon Micheal Hall) sister
In this interview, she talks about God Friended Me, her new film, Always a Bridesmaid, her journey from web-series to series regular and why self-tape auditions are the worst.
You grew up in Maryland. When did you decide to leave there to pursue acting?
Javicia Leslie: I mean, I've always been acting. I just was doing it more on the East Coast. After I graduated from Hampton University, I moved back to Maryland-DC area for like a year and a half working for the government. Then, one day I just decided, it was in 2012, I decided to just pack up all my stuff and go to California and pursue acting full-time.
When I lived in Maryland, I got like a lot of film and TV stuff. Did you work out there?
Javicia Leslie: Yeah, I did a little bit. I did some commercials. I directed my first play out there. I was a host for a live music show. So, I was working out there. I just wanted to do more.
When you moved out to LA, did you have any contacts or anything, or did you just kind of blindly move out there?
Javicia Leslie: I kind of just blindly moved up there. I didn't know anyone in the industry.
Oh, nice. That's so brave. What was your first big thing when you moved out here?
Javicia Leslie: Well, when I moved out there in 2012, I ended up helping one of my friends at a trade show event. She was selling scarves and purses. So, I was helping her out and this lady comes up to me while I'm selling things and just asked me, "Am I a model or an actress?" "I'm anything you want me to be." She was like, "Well, I'm a talent manager. Look me up. Tell me if you like what you see. Then come into my office next week and we can meet." So, I looked her up. I liked what I saw and I signed with her the following week. She's actually still currently my manager. Then from there, she helped me get an agent.
And then from there I started doing web shows. I was doing Black&Sexy, which is an online subscription-based web show. I did two of their shows. Then from there, I did a student film. I started doing a lot of commercials, like Burger King and McDonald's and stuff like that.
Then a few years later, I ended up booking my first guest star role, which was for MacGyver, which turned into a recurring role. Next, I booked the lead on Family Business, which was originally slated to be a movie. Right after that, I ended up booking, God Friended Me as a series regular, and while I was shooting God Friended Me, BET picked up Family Business as a TV series, which I was a series regular on. I started shooting both projects last year at the same time!
Once you sort of hit it, you kind of kept the ball rolling.
Javicia Leslie: Yes! I appeared in Lifetime's television film, Killer Coach in 2016, and this past April, I filmed Always a Bridesmaid.
Let's talk about God Friended Me. How did you go about getting the role?
Javicia Leslie: I auditioned during pilot season, which typically takes place in February and March of every year. Pilot season is when actors start to audition for new shows that are going to get tested. It doesn't mean that they're automatically picked up, it just means that the new shows are going to be shot and tested. Then, if they do pass, they'll get picked up and they should air in the fall.
So, I went out and I auditioned for it for the first time. Then I had to do a callback and then I had to do a producer's session. Then I had to do, I think one more session, like a director's session. Then they ended up having me test. And to test means that they like you but they like two or three other people as well for the same exact role. So, now they're going to ask basically the studio what their decision is. So, it was between me and two other girls. And so, we did a chemistry read first with Brandon because he was already cast and then after the chemistry read with Brandon, we went in to do the studio test in front of WB.
Then from there, they brought it down to me and one other person. And that's when we tested in front of the actual network. Once we got chosen, then we all came to New York in March and shot the pilot episode. It took about a month to shoot the pilot episode. Then after we shot the pilot episode we all went back to our regular lives and the team edited and sent off the pilot episode to be tested in front of a sample audience.
Then in May, one of the producers that I'm close with called me. At the time, I was working as a server and he just said, "How do I like working at the Hudson?" I mean, the truth was the truth. It's like, "Oh yeah, I don't mind it. I actually like it." I didn't know that he was calling to tell me that the show got picked up. I thought he was just asking me how I liked it. And I'm like, "You know, if I had to work at a restaurant, this is the one that I would like to work at. I enjoy myself. They're not strict." You know, like whatever, whatever. He was like, "Okay, let me just ask you a better question. How would you feel about being a series regular for a TV show?" I was like, "Wait, did we get picked up?" He's like, "Yeah." So, that was exciting.
Then we went back to New York for the upfronts, which is basically when all the shows come out for that network and they basically present us to advertisers and stuff like that. So, that they can start getting funding for the shows. After that we all packed up all of our stuff, and moved a month later to New York.
That's such an awesome story. I've never been in that position testing for a pilot. How stressful of a time is that? Like, is that all you're thinking about?
Javicia Leslie: No, not really. I think because it's pilot season anyway, so, I was still auditioning for other things. At the time that all of this was happening in 2018, I had been in LA for six years. This might've been like my third or fourth pilot season. I know there are actors have been out there way longer than me who, it might've been their 15th pilot season and still haven't booked a show. So, you don't really think too much about it. You give it your best and you keep it moving.
I don't hold my breath about things because I know how this industry works, and I know that there's nothing I can do. A lot of times it was really out of my hands. Once I've done the best I can do, it could be something as simple as how the cast members and I match up in size, how the cast members and I match up in looks, do we actually look related? Does my energy give off the same energy of the rest of the cast that they've already cast? So, it's more so about that. Once you kind of let all of that go, you just do your best and you walk away.
I'm also spiritual, so I just believe whatever's for me, is for me, and my only job is just to be the best version of myself. So, that's all I brought to the table. Luckily this one was for me, but the next one wasn't. You know? So, it's just like, you don't really hold your breath about it. You just go in there, you do your job, and you walk away.
You filmed this in New York. I think living in New York and being a working actor, would be like a dream.
 Javicia Leslie: So my first year, I didn't feel that way. There was a lot of anxiety because I had been in LA for six years. So, I had a family there and I had a comfort zone there and I have friends there. You know, at the time, especially last year before I started filming Family Business, as well, when I was filming God Friended Me, the series itself was really just following the guest stars. So, the only people that were working a lot were our first three people.
So, I would have a lot of off days and I would literally be sitting in my apartment like, "Ugh." You know? It was giving me anxiety and I wasn't really the happiest person the first two or three months. I was very happy with my career. But as far as just in my personal life, I missed my family and friends. I was wanting them to be out here. Then when I started filming Family Business and I started being busy, it was really cool.
Now this year, I'm only filming God Friended Me right now and I don't feel that way at all because I'm really understanding the value in being a working actor in New York. I'm understanding the value of how it can contribute to my craft. I'm also understanding as a woman that is just now getting into her thirties how beautiful it is to have this contribution as being by myself out here and this part of my career and this stage of my life. I see how much power and how much influence it has over me now and I'm very appreciative of it.
But the first year I was lonely. This year I don't feel that way at all. Even though I'm still always by myself, I'm going to watch more plays and Broadway shows or I'm just like kind of venturing out in the city. I'm just seeing the beauty of it and the blessing in it versus last year. I don't think I saw that as much.
You have a really great cast. But someone I love is Joe Morton. How is it working with him? I would be like just watching him all day, seeing how he works.
Javicia Leslie: Definitely. I think the first year that's what it was. The first year when I was just working with him I was really just learning and growing and admiring him, which I still do. But I think this year it's more, I'm more excited to play with him. You know? I think last year, it was more so like I was in awe. This year it's just like I'm just excited to go to the table with him. I'm excited to play with him and he's always present. He's always dropped in. So you know you can take it anywhere. He's going to react. He's going to be there to catch you. I don't think that you can always say that about everybody, in general, as actors. It's a blessing when you come to a table with an actor that is so present and you can take it anywhere and they'll flow with you. That's one of the best parts about acting with him.
That's really one of the best parts of acting with my cast, in general. We have a very giving cast. We have a very present cast. A great example is even when I'm acting with Suraj [Sharma], who plays Rakesh, he never gives the same take. Ever. But every time he comes to the table he gives you something different. And if you're in it and your present, it's always going to be a fun type of ride with him in a scene because he never gives the same thing, you can't give the same thing. And that's what makes it fun. That's what makes acting fun because when we come to the table, we're just supposed to be playing, playing make-believe. Those are the type of actors I love to play with.
On your hiatus do you look for something else to do, like jobs and stuff, or are you just like, "I want a vacation?"
Javicia Leslie: I try to do both. So, this past hiatus, I went straight into filming the movie, Always a Bridesmaid. But we told them like, "Hey, I already booked a vacation on this date, so I can do the movie if it can be done by this date." And so, we did the whole movie and then me and my mom went to Dubai literally the next day. I try to do both. This year I'm going to try to do both again.
I love working. I'm kind of in the stage of my life where I just want to just take every opportunity to work, to travel for work, and to do really different kinds of roles. Just to expand on that, you know, like action and Always a Bridesmaid was a romantic comedy and going into that, I was coming out of God Friended Me, where I'm playing a pastor's daughter and the voice of reason and coming from that I was playing a hit man.
So, it's just like I always want to be able to have that flexibility, which is why I don't really like taking too much of a hiatus because if I take too much of a hiatus I'm just going from God Friended Me to God Friended Me, you know, versus using those three months to be able to book and work on something else.
What's been your worst audition?
Javicia Leslie: The worst audition. Well you know, this because you're an actor. Any of my worst auditions are self-tapes. Because one, I'm overthinking. Two, I'm doing the same thing over and over and over. And sometimes I've acted, so we get these self-tape auditions where it's just like, "What do you want me to do? Huh? You want me in a self-tape audition to act like I'm getting shot, drag myself with bullets coming towards me?" Just things that are absolutely ridiculous. So, I feel those are usually my worst auditions where I'm like setting up a camera… First of all, I'm talking to myself because I can't find anyone to self-tape with me. So, there is my voice being recorded on the computer.
Then outside of that, I'm ducking in and out of frame to show whatever it is I have to express or I've created so many different eye lines because there's 28 people in the scene because that's the scene you gave me to do a self-tape on with 28 different people. And so, I have little notepads up, little Post-its everywhere to show me my different eye-lines… Those are usually my worst auditions.