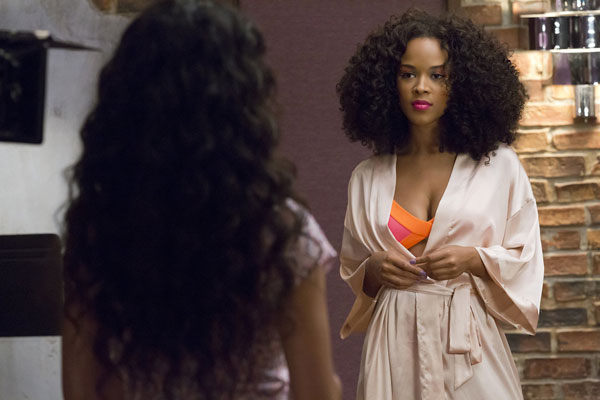 "I've been in the shoes of fighting all the no's and waiting to get the yes and once you get the yes, pressing forward and doing what you can with your opportunity that you got." – Serayah
Actress and singer Serayah stars in FOX's hit show, Empire, and she joined in a conference call recently to talk about her latest song, the show and her character, Tiana.
And here's something cool: As a child, she said she wanted to be on a TV show where she could sing and act. With Empire, she's doing just that. You can check out her answer to see how it feels to live childhood her dream below!
What can you tell us about the new song?
Serayah: Thank you. Well, it's a really fun song. The scene that they had me do it in a fashion show and it's premiered very, I think, eloquently and it's definitely a crossover song. I like the song because it has that upbeat and that DJ feel that it can be played pretty much anywhere—a club, a rave, anything like that. That's why I'm excited about the song. It's a lot different than any other song Tiana has done.
Tiana and Nessa, you guys are the competing female singers on the show. So without spoiling anything, are viewers going to be surprised at all about how your story plays out over the season? What can we expect between you and Nessa?
Serayah: A lot. They're definitely going to be surprised because I don't think they've seen Tiana be so outraged at someone and I don't think that they would be expecting Nessa to do what she did, so I'm really excited for everyone to see that battle between the two.
You've been part of the show since beginning, so looking at the evolution of your character, Tiana, where would you like it to go in next seasons or coming seasons? Where would you like it to go and how does playing this role impact you in your personal life?
Serayah: Well, as far as my personal life, it impacts it in the way of being on TV and being recognized, but I think it's pretty black and white because it's glitz and glam for Empire, but I'm still working on everything in my personal life as far as other projects and things like that.
I think for Tiana, the evolution of the character has been amazing, but I would like to just see her I guess do more of the music and everything that we've seen her do but I think just hear more from who she is maybe and things like that that we haven't really seen from her.
You've spent a couple years with the character now, do you get to talk to the writers and improvise or is it still very scripted at this point? How is the environment on set?
Serayah: The environment on set is great, but as far as the writers, yes, before the season, I sometimes get to sit down with the writers and just think of different plots and things that could go on with my character. It doesn't necessarily mean it's going to happen or it's going to roll out that way because of all the other characters, but I definitely throw out ideas.
You're part of this wonderful show that's kind of breaking the mold of TV shows for people of color. What's your message to other storytellers, performers who are in a similar?
Serayah: What I really admire about the show that I'm on is not only that it is a black or relatively African-American cast but just that we're seen in the light of not only black people can come from in the gutter or have nothing, but they can rise and become moguls and millionaires and things like that. So that's what I really admire about the show. Also, I think it's really amazing that now at this time we get to have black television back and see it back in action. For the young kids watching, it's great.
What would you say are the big differences or similarities between you and Tiana? Is there anything that you really fought for that you wanted Tiana to be in terms of how she is on the show?
Serayah: I would say me and Tiana have a lot of similarities as far as being a go-getter and a dreamer and singing and dancing. All this stuff is what I've always wanted to do.   And yes, of course, this is what I've wanted to do my whole life, so definitely I've been in the shoes of fighting all the no's and waiting to get the yes and once you get the yes, pressing forward and doing what you can with your opportunity that you got.
One storyline that you had in terms of your love life, it was this love triangle with you, Hakeem and Graham, but also your character is bi-sexual. How did you feel initially about portraying a character that was bi-sexual? Was that no big deal to you or was it important?
Serayah: When I first got word that that was what was going to happen, I didn't know how to feel, to be honest. I have no problem with people who are bisexual or transgender or anything like that, but to play a character I just didn't know—it wasn't in her breakdown. It came to me later in the script. I just wanted to know where she was coming from as far as an actor. I didn't want to just be doing it. So my only thing was just to have a talk with the writers and be like okay, why is she this way?
What we came down for with the character is that she was going through a period of being in the industry, being in the fast life, and some people get caught up and they start trying things they've never done, whether it's drugs, whether that's being bisexual, whether that's whatever and they go on this fast road. But the thing for Tiana was it was just an experiment and she's like not for me, and that's what it was. So I had a far greater understanding about it after we talked.
Is there anything that you really want for Tiana in the future?
Serayah: I always wanted Tiana to collaborate with Jussie, and in future episodes she finally gets to. Now I think she's good. It would be amazing if she had a collaboration with a guest star on the show.   That would be really cool, but other than that, I think I've reached that now that I got to do a song with Jussie.   It was really cool.
You started making music when you were very young, and as a child you said that you always wanted to be on a TV show and have a show where you could sing and act. So now I think you're 21, and you're on this monster hit, so if you could tell us how the reality compares to the dream and what has surprised you or what's it been like to cross this major goal off your list at such a young age?
Serayah: It's actually unreal sometimes. I don't think about it a lot until I get a question like this. It's really a blessing to be able to do what you want to do in general, but to be able to accomplish such a—not a far-fetched dream but a far-fetched dream in people's eyes because when you look at celebrities and you think of movies and shows, you think of things and people, like they're not human and it's in other world.
It's really amazing that I got to be a part of it at this young age. That's totally correct. But what's the most surprising part about it to me that I'm still surprised at is that yes, I did want to act and sing and everything, but the universe gave it to me in one package, and it's really, really cool. Actually I'm just always grateful for the opportunity, and I'm just always working really to just work on different stuff and just to keep the ball rolling.
Empire airs on Wednesdays on FOX.