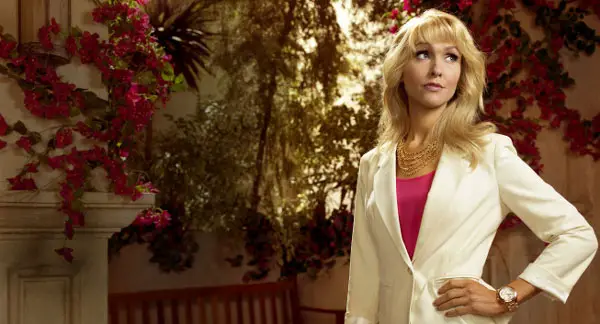 If you ever get a chance to talk to Jenn Lyon, you should waste no time is saying 'Yes' because she's awesome.
You've probably seen her as 'Lindsey' on Justified, or as Cheryl Hines' sister in Suburgatory or in one of my favorite shows, Louie. Jenn's currently starring in the FX series, Saint George, opposite George Lopez and Danny Trejo where she plays the a-typical ex-wife of Lopez. And by a-typical, I mean her character isn't a horrible human being! She brings the funny to the role and absolutely can go toe-to-toe with Lopez (who is always hilarious).
I saw Jenn a couple years ago when she was starring in the La Jolla Playhouse production of His Girl Friday. The cast of the show was huge but I totally remember her performance because she was the absolute standout.
She got her start in the New York theatre world and even though she's having huge success right now in TV, she says that theatre is still her first love.
I talked to Jenn recently about theatre, how she got her role on Saint George (which is a great story), moving up in the acting world, advice to actors and more.
Check out Jenn's YouTube page!
For the full interview, click the audio link above or download it from iTunes.
I saw you in His Girl Friday at the La Jolla Playhouse.
Jenn Lyon: Oh, wow. That's so great. I didn't know people on the West Coast went to theatres. That's exciting.
That's how dedicated I am because I knew I was going to eventually interview you.
Jenn Lyon: Wow. All that and you're a prophet. This is amazing.
I thought it was really good.
Jenn Lyon: Oh, gosh. Well, thank you. Thank you both of you who watched the show. That's exciting.
No, it was packed when I saw it.
Jenn Lyon: Oh, gosh. Good. A couple of times we played and I felt like there were more people in the cast than there were in the audience. That was tough.
You've done a ton of theatre. I know you've got the show, but when you're on hiatus do you try and sort of squeeze in a show during that time?
Jenn Lyon: Sure, yeah. I'd love to. Yes. I love… theatre is my first love, it's my jam, as the kids say. And, yeah, I'd love to. I'm auditioning for stuff currently and, yeah, I always love to do theatre. That's my first love, it's my favorite thing.
I'll get back the theatre in a second but I want to ask you about the George Lopez Show. I heard a story about how you auditioned. You videotaped yourself but you were all the parts?
Jenn Lyon: I did. I played all the parts myself. It was closing night of His Girl Friday and everybody was going to the closing night party and I knew I had to put myself on tape and I didn't have anybody to read with me, so I recorded the lines on my phone and I set up the iPad on the… a bunch of books in my apartment and I lit myself with a lamp and I pressed play on my phone and I just left the space for myself. I recorded the lines and I left pauses for myself and I would press play on the phone, yeah, and I just played the scene with myself. Like a real weirdo. But they liked it enough to be like, "This schizophrenic lady could really do a great job for us."
So you said the other character's lines and left those pauses in?
Jenn Lyon: Yeah. I just left spaces for myself.
Hey, man. It worked.
Jenn Lyon: I'm a real weirdo.
The cast is really, really good and I just imagine working with them is fun. But, man, I think Danny Trejo would be just bonkers to work with.
Jenn Lyon: He is so fun and so kind and so funny. You can think that Machete would be like… would have comic timing like that because he's so terrifying in all of his movies. But he is hilarious. We have such a hard time keeping a straight face with him on the show. He's brilliant. His comic timing is off the charts. You wouldn't believe it.
In most sitcoms, the ex-wife is this awful woman who's always the butt of the jokes and you can never understand why the main character initially fell in love with her, but not your character in this show.
Jenn Lyon: Yeah. Yeah. I think that's important that you… because they were together for… they have an 11 year old son. They were together for 12, 13 years. And they were together for a reason and they loved each other. They built this company together and I think that that's important that you understand that there was a love there. And that was really important to me to bring to Mackenzie. And then you see that they do find each other delightful. You know?
Was that originally in the pilot episode or the script? Or did you kind of help bring that out?
Jenn Lyon: It was in the writing in a way. But I think… because they said in the breakdown that they wanted her to be playful. And I think I kept that in mind, definitely. And then I think as it progressed they continued to write her that way.
I think you can get stuck in that trap of the ex wife and you'll always be like, "Mackenzie storms in." But then, you know, you just end up doing a series of slow burns where you're just always giving the mean mug to somebody and that just… you can't build anything onto that. You're just a one note Johnny. Johnny one note. And it's just inherently more interesting to have levels.
Have you heard if it's gonna be picked up? Because I think it's doing well.
Jenn Lyon: We haven't heard yet. We'll know after this 10th one. Because we've got to sort of take an average of everything. And it's doing well. We did really well at first, it lagged a little in the middle, and it's been growing steadily and so we should hear… it's been picking up these last few weeks and then we should hear pretty soon after this last one airs. So we really need people to tune into this last one so we go out with a bang.
And if it gets picked up then you're working for a while then.
Jenn Lyon: Yeah, yeah. 90 episodes.
That is awesome. Man, I'm crossing my fingers for you.
Jenn Lyon: Oh, thanks buddy. I mean, it's a dream for an actor to have secured work like that? For 2 years? Are you kidding me? Oh my gosh. I could buy a pair of pants.
It's got to be more than 2 years? Or would you guys film the whole 90 in a row? Nonstop?
Jenn Lyon: You film it fast. We shoot an episode in 2 days.
Whoa. Really?
Jenn Lyon: Yeah. It's not like a traditional sitcom where you have a week to shoot an episode. We bang them out fast. Because that way the kids don't grow up. You get them in there. You don't give them a chance to grow up. We shoot them really fast and furious.
Yeah, the sitcoms I've done were all like a week. 
Jenn Lyon: Yeah, no, no, no. This was a much faster model. It's the 10 90. Yeah.
Yeah, then I can see 2 years. Then residuals. man, good for you. 
Jenn Lyon: Yeah, gosh. Oh, thanks buddy. Thank you. Yeah, it definitely… it's more guaranteed than theatre and they feed you. It's amazing.
You went to North Carolina School for the Arts?
Jenn Lyon: Yeah. Yeah, I did.
And then when you graduated, they took your whole class to New York to audition for the agents?
Jenn Lyon: Yeah. It's called consortium and they take you and you audition in front of agents and casting directors and then you… they give you sheets of paper… it might be different now. They don't give you paper, they text your smartphone. I don't know what they do. And you see what agents want to see you or if casting directors want to meet with you or what have you.
And you do a scene and a song and then you see if they want to meet with you. And some kinds don't get any calls, some kids get all the calls or whatever.
And I was lucky enough to get a couple of meetings and stuff and I got an agent through that and started doing… got a couple of auditions, started doing some free theatre, weird stuff, and got my first professional equity gig. Got my Equity card. You know, just started doing theatre. And then in the last couple of years broke into some film and TV and then got my first series regular role last year and… yeah. It's kinda… it only took a decade. Here it is.
Overnight.
Jenn Lyon: Yeah.
Your first recurring, that was on Justified?
Jenn Lyon: Yeah. Yeah.
How does that change your career? You already had an agent, but were they just getting fielded with calls after that? How does that change for you?
Jenn Lyon: I don't know. I don't know from their point of view what that was like. I know for me, because, you know, guest starring roles it's just like one shot. You're on for a night and that's it.
But it kind of works on a contingent basis. You need somebody to take a shot on you before people will agree that people will take a shot on you. It's kind of like a catch 22. You can't get your equity card until you're in an equity show but you can't be in an equity show until you have your equity card. It's like that whole thing. And it's kind of the same way with TV. They don't want you to be on TV until you've been on TV but you can't get on TV until people say you can be on TV.
And so I had been on Louie. I had been on Army Wives. And then I'd gotten Justified. Lindsey was just supposed to be a 2 episode thing. And then they sort of… once I was on there it got built out to be more and more once they saw that Timothy [Olyphant] and I sort of had this rapport. And it turned into this bigger recurring role and that was huge for me to have this 8 episode thing because then people get to see you and know you and like you or not like you. Whatever. You're just on there and you become a knowable entity and that's sort of invaluable, I think.
Are you auditioning tons more?
Jenn Lyon: Yeah. You definitely get more auditions. And people know who you are. You can walk into a casting director's office and whereas before they'd be like, "So, I see you've done a lot of theatre?" It's sort of, "So, I see you have a scab on your leg?" Like, oh. Who cares?
And now they're like, you know, like having Justified under your belt is a big deal. Because it's this award winning show and it matters. And having Louie, Emmy winning. These are things that people have seen and they know about.
To me it's very impressive to have been in a Tom Stoppard trilogy. But to TV people, I don't think they really care that much.
They're like, "What is this theatre you're speaking of?"
Jenn Lyon: Yeah. Yeah. They're like, "John Guare? I… yeah." But to me, there's not a bigger feather in your hat than John Guare. He's the greatest living American playwright. Anyway.
But to have Justified and to have George Lopez, to have David McFadden and Matt Williams as executive producers on a show who have taken a shot on you, that's huge in a casting director's mind, I think. And so, yeah, hopefully it will lead to more work.
And to have Suburgatory now on my resume, these are hopefully stepping stones to other people taking a shot on me now. Because before I was just a nobody and so now maybe it's sort of building into being a bigger player in the game, I hope. We'll see.
When you were living in New York, those 10 years, did you have to have any sort of survival job?
Jenn Lyon: Oh my gosh. This last year was the first time I didn't have a survival job. This last year was the first time I've just made my living from acting and writing.
I have worked in ice cream shops, grocery stores, I've been a baker. I made pizza in Central Park for a company called Pizza Moto on a giant wood fired oven. I'm just all blue collar manual labor. I've just always had a day job always.
Have you had any nightmare auditions?
Jenn Lyon: Oh, God. Yeah. Oh, yeah. I mean, but if you're gonna… the thing is, if you're gonna sign up for a life in the business, you've just gotta be ready to be humiliated and rejected a whole lot.
And the worst auditions make for the best stories. So as a comedian, you know when it's going terribly you're going to have a great story to tell later. So even when it's real bad and you think to yourself, "Oh, this is gonna make me just have to eat so much cake and ice cream when I get home," you know it's gonna be a great story to tell a week later.
And then my last question for you is, do you have any advice for actors?
Jenn Lyon: Yeah, just don't be an asshole I think would be my best advice. Don't be an asshole. That's just basic advice.
And stay informed about the world. Stop focusing so much on your headshots and think about the rest of the world. There's factories collapsing in Bangladesh. Think about that and stop thinking about your hairdo.