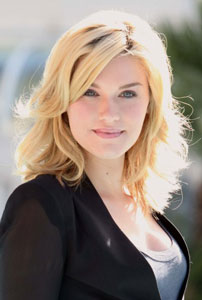 The SyFy series, Haven, based on the Steven King novella The Colorado Kid, follows FBI agent Audrey Parker as she arrives in the town of Haven, Maine. She's there to investigate a murder in the mysterious town but soon finds out that the small town is a refuge for people with supernatural abilities.
Emily Rose plays Audrey on the hit show. She's been on Brothers and Sisters, ER, Two and a Half Men and even worked on the video game, Uncharted.
I talked to Emily in a conference call where she talked about Haven, her acting goals and working with motion capture on Uncharted.
Haven airs on the Syfy Network Fridays 10/9c
For the full interview, click the audio link above or download it from iTunes
What keeps challenging you about the role of Audrey?
Emily Rose: I think just her mystery of herself and where she comes from. I constantly am challenged by her toughness and how she would handle trying to walk that fine line between trying to be a nurturer and helping people that are troubled, with also the tough skin and the defensiveness that she had to build up individually in order to last all these years without a family or a home or without knowing anything about her background. That's a constant challenge for me.
What was it that you drew you to the show?
Emily Rose: I think for me I just really enjoyed the character of Audrey. When I read it I just thought that she was really cool and really sassy and really sarcastic and fun. And the fact that they wrote these really quirky characters, and I know I say that a lot, but it's really when you read scripts and you don't just see these normal characters that would maybe just be accepted by all the popular crowds. You kind of get refreshed that there's actually well-written characters that ride a tandem bicycle or think little details like that that kind of make you go, "Wow, what is this town about?"
I – it was really this role for me, I could really feel it, and so that to me was intriguing, you know, this character of Audrey that was so determined and wanted to figure out what was going on, but then had this little weak spot of not knowing her own history. To me that's what hooked me in.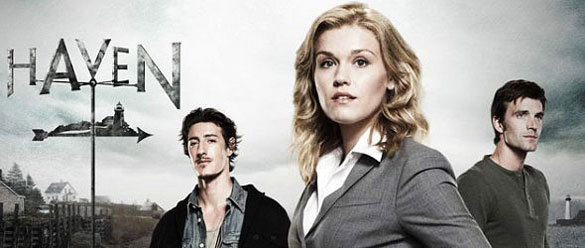 You talked about playing the lead in this show being a goal you had, an acting goal, and I'd like to know what some of your other acting goals are or have been and if you have any new projects, you know, that you can tell us about, besides Haven, and if you have any more of them for Syfy.
Emily Rose: Yeah. I have a few acting goals that come to mind. I would really, really love to do a feature film. It's something I just – I can't wait to be able to be a part of and I know that that – it just would be a great opportunity.
And I also just look forward to being able to work on film which would be like working on a complete script, whereas series television it's such a quick turnover, you know, you have to make your choices and make them quick, and then move on to the next thing. And I think with working on a film I would really enjoy being able to look at the whole story in the arc and be able to really work on each of those things and, you know, rehearsed and that would just be a dream to not have the speed of it behind it.
And then I'm here in New York this weekend. I went and saw Zach Braff's new play that he wrote, and I got – I went to school for theater. I went to school for about seven years and got to do a ton of theater and I miss it. I miss it so badly. I miss the rehearsal process, I miss being able to play a character that you're not typecast in.
And I just really can't wait to be able to do a good play with a great director and a great writer, and work with a great cast and just workshop it and workshop it and workshop it and make it to a good point. I can't wait to do that again.
And then, I really would love to teach an acting class and work with high schoolers or college students and teach an acting camp. That's another huge life goal for me. I love mentoring and I love teaching and I love working with kids with theater, so I can't wait to do that again sometime in the near future. I got to do that a few years ago and I just miss it, so I love it, and any opportunity I can to teach I take.
And then, I think that in terms of projects I'm just working a bit here and there on a video game for Sony called Uncharted. I haven't been able to talk about it for a while, but I'm able to talk about it now that I'm in the third installment of the Uncharted series with Sony PlayStation, and I'm finishing up that project. And hopefully when I come back home I'll work on some family time, and then hopefully work on something else. We'll see.
What's the difference in acting on screen as opposed to just acting with your voice?
Emily Rose: Well, Uncharted is actually one of the video games that has been on the forefront of the new movement in video game making of motion capture and cinematic, so I actually do motion capture for the game. I act with my whole body as the actor and the person, as well do in the scene, and we do that on a sound stage and cameras record us.
And so, the only difference is I'm not in costume. I'm in a motion capture suite and the computer captures all of our movements, and then we come in the next day later and lay in any vocals that they weren't able to pick up on the sound stage. But it's neat to be in a new medium of video game making where I'm not just walking in the booth and doing the voice although, I still do concentrate a lot on my voice for the character of Uncharted, but it's fun just to be able to do all of that.
Do you find yourself watching shows and critiquing things you do in the show?
Emily Rose: Yeah, I'm the type of actor that really wants to see dailies on a regular basis. I like to know – I still think that I'm learning everyday and I'm learning and I'm trying to get better and – on a regular basis.
And so, I watch certain scenes because I remember what directors directed me to do or maybe in an area that I disagreed with, and I watch and I just like to see how it appears on the outside to the audience. I'm a visual learner, so I definitely like watching to learn and to get better.
What's your advice to actors?
Emily Rose: Oh, man. That's a great question. I mean, there's the cliché one of just keep going. If it was to actors that that want to be acting and to be working in this industry – the people I admire the most are the people like at my theater ensemble that I get to be a part of every once in a while back in L.A. called the Los Angeles Theater Ensemble.
Those guys are – to me they're the true artists. They write their own theater, they collaborate, they workshop it, and they throw themselves out there every single season with new fantastic, relevant material. And so, I think my advice is just not to wait for auditions to create your work. Something we learned at UCLA when I was there getting my graduate degree is they said, "Don't wait for somebody to hire you. We're giving you the tools to create your own work and to make relevant theater that, you know, can be talked about.
And so, my advice is to go out and to observe and to use observations to inspire you, and then to go write pieces and put them up in your living room or put them up somewhere and get feedback, and just keep using your instrument. Keep using what you have and getting better and learning and be open to direction, be open to people, giving you advice, but not so open that you lose the sense of who you are.