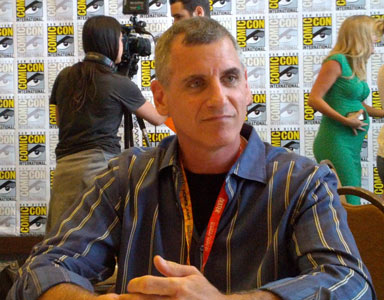 Comic-Con 2012: David Zuckerman is the Executive Producer of one of my favorite shows, FX's Wilfred. If you haven't watched it yet – and if you haven't, why not? – the show is about a guy named Ryan (Elijah Wood), who strikes up a friendship with Wilfred (Jason Gann), his neighbor's canine pet. Everyone else sees Wilfred as just a dog, but Ryan sees a crude and surly, yet irrepressibly brave and honest Australian guy in a cheap dog suit. 
In this interview I did at Comic-Con, Zuckerman talks about Season 2, pushing the envelope and if he already knows how the show will end.
Wilfred airs at 10pm on Thursdays on FX
For the full interview, click the audio link above or download it from iTunes or check out the video below!
How is the reception of Season Two?
David Zuckerman:  It seems good so far.  The ratings have been really encouraging and you know the stuff I've read online seems mostly positive.  It's interesting, there seem to be a great number of critics or people who write on the internet who really like it and there seems to be fewer people who really hate it and just say, oh it's stupid.  And then there's this group in the middle that won't say that they like it, but they won't say that it's not good either. 
Undecided?
David Zuckerman:  Well I don't think they know what to make of it.  They seem like, well, it's not terrible, but I wish it was more this or I wish it was – but it's not bad.
They're still evaluating.
David Zuckerman:  Yeah, I guess.  Still evaluation or just not sure, you know.  Just not sure.  There was a really interesting one in the Huffington Post by this woman who said, "It's not for me, I didn't like it, but it's good." I'll take that, I guess.
Maybe it's because you guys push the envelope so far?
David Zuckerman:  I don't know, you know, I mean I really don't think we are that much racier than say Family Guy. I think the thing that is a little off putting about this show to some people is some people just look at it and they go, oh, there's a British guy in a bunny suit with Frodo, you know?  They just can't look at it any deeper than it's a guy in a dog suit.  I think some people, they tune in to the half hour and they just expect it's going to be hilariously funny all the time and our show isn't hilariously funny all the time, so I don't think they know what to make of it.  I think it's just unusual.  That might be the thing that is off putting, is that it's just unusual, and it's a weird show.
It's good too.
David Zuckerman:    Well to some people, that's the draw.  That's what makes it interesting.  But to some people I think it's just confusing.  There are shows that you can watch where you can just enjoy them and they aren't particularly demanding of the audience, and there is nothing wrong with that.  That's Family Guys, that's Big Bang Theory, that's those shows.  And there are shows where you have to pay attention, like Community and 30 Rock, where they go very fast. And then there are shows like our show and some dramas, probably Louie is in this category, where you have to watch it and you have to think about it.  Some people just don't want to do that when they watch TV.  I get that.  There are times when I don't want to do that either.
It seems that there's a lot more upbeatness in Season Two, even though there's kind of a dour, dark type of theme running through right now. 
David Zuckerman:    I think this season I think was a little easier because we all sort of knew a little bit more of what the show was.  We shoot this in a very unusual way, in that we shoot everything out of order.  We have to have all the scripts written before production even begins and this year we actually shot the odd numbered shows first and the even numbered shows second, with scenes from each in both blocks.  Randall [Einhorn, director] is amazing, the way he kept track of everything.  Continuity wise it was a very challenging show.
Are you talking totally in terms of the show seems lighter this year?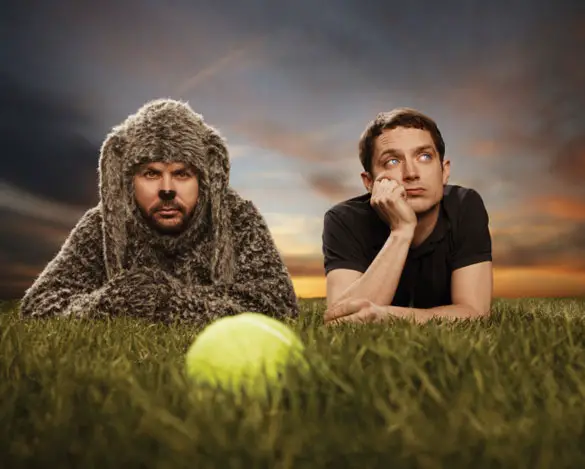 Well, it does, but there are dark elements in it too.
David Zuckerman:    Yeah, we take a real journey this year.  The end of the season gets quite weird and there's a lot of moments of I would say psycho drama coming up.  Last season started a little lighter and got a little more complex and a little deeper as it went on and I think we follow that same trajectory this year. 
We're building to another surprise at the end of the season; although, we're putting in many more clues this year than we did last year.  I haven't seen a lot of people picking up on them yet, but on repeated viewings they probably would see them.
Do you guys know what the very last episode of the show is going to be?
David Zuckerman:    I mean I know the basic mythology.  I know the basic resolution.  I don't know how we're going to get there exactly. I think that it would be a bad idea to just say, it's going to be this way, because as we go along we find things that work better than others.  We find different things about the characters or different things about the actors that they bring to the characters so I wouldn't say that I have an exact map.  But, we're not flying blind.  At least I don't think we are.  You never know.
The show is getting deeper and darker, is it ever hard for you to balance that darkness with comedy?
David Zuckerman:   Sometimes.  I mean we're always mindful of the comedy but when we're breaking the stories, my main goal is to tell complex, interesting stories and the humor, we've got a guy in a dog suit and we've got two guys smoking pot.  We're going to find funny.  There are going to be plenty of funny things.  We do spend a lot of time thinking about our dogisms.  The doglike behavior and how that translates to a human as a dog.  But, the main priority is telling interesting complex fresh stories that you haven't seen before and the funny just seems to come, you know, as appropriate.  I think that there are a lot of times when we have things that are really, really funny but they just don't' feel right for the show.  They feel a little too jokey or a little to comedy with a "K" and those things tend to get cut along the way.