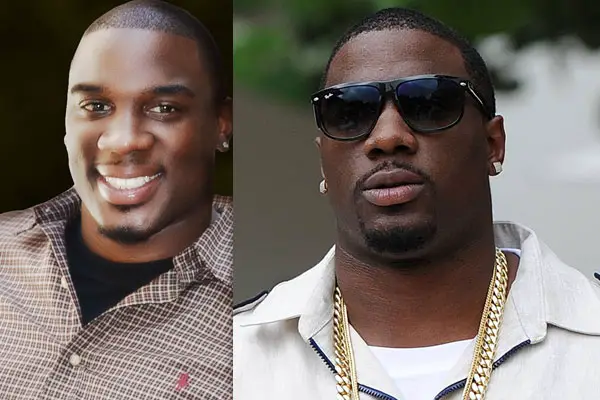 Former UCLA Bruin star Donovan Carter had planned to take his football career to the next level and play in the NFL. When that didn't work out, he didn't "have a backup plan," he told me. He had kept in touch with his college coaches and thankfully, they introduced him to a commercial agent and his new career as an actor was born.
Carter stars as Vernon Littlefield, an NFL defensive tackle, on HBO's Ballers. His character career is guided by another former player, Spencer Strasmore, played by Dwayne Johnson. Ballers is tons of fun to watch and if it hasn't made it into your Sunday night rotation, you should definitely add it.
Here, Carter talks about moving from football to acting, his 3-month audition for the show and working with Dwayne Johnson.
As a Redskins fan, how does it feel to play a Cowboys player on the show?
Donovan Carter: At first I was like, "Man, I don't like those guys." But it's fun, just playing the character. Whatever team he would've played for, I would've bought into but it was just ironic that he's a Cowboy and I grew up a Redskins fan.
I wanted to play football in real life and you don't get to choose who you play for so I would've been in the same situation.
You played college football and you played a bit in the NFL. When that didn't work out, did you have a backup plan? How did all roads lead to acting?
Donovan Carter: I really didn't have a backup plan. I studied history in college. But a lot of athletes when they're done playing ball, they just try and figure out, "What is going to be my next move?" I stayed in contact with my coaches at UCLA and they pretty much helped me start my career. They got me in touch with a commercial agent. So, that's where I first got started. I started doing commercials as an extra, as background. And then Baller's casting director contacted UCLA coaches because they were looking for my character and Ricky Jerret's character [John David Washington] and they were looking for real football players to audition. I just got an email about the opportunity and God took care of the rest, man.
Before all that had you ever acted before?
Donovan Carter: No. I mean, I did a play when I was a kid I did, To Kill a Mockingbird, when I was like 10 years old but I didn't have any lines. I was just a kid and one of my friends moms told me about the opportunity. So, I was like, "I'll try it." At that age I was interested in acting and TV but I didn't do anything else after that because I was just interesting in doing kid stuff and playing sports. And then I started developing my skills in football and I just focused on that. This is my first acting role ever.
What was your audition like for the show?
Donovan Carter: It was rigorous man. It was fun. I didn't know what to expect. It was a grind. It was long and I had to be patient. I auditioned for like three months straight.
It's my first time acting. It's a lot of responsibility, so I'm sure they wanted to make sure that I could handle it. But each time everybody was great and each time I just did the best that I could do because that's all I knew how to do at the time. That's what I learned in college and from my dad and my parents. Just do the best that you can do. That's all that anybody can ask for. And I ended up getting the part.
Did football teach you anything about acting? Like, what it takes to be successful, setting a schedule and sticking to it? Things like that?
Donovan Carter: Yeah, yeah. It definitely taught me a lot about time management and how to just work hard. I developed my work ethic when I got to UCLA, they taught me about competitive greatness and working hard and just putting the time in and you'll be a professional anything. So, I definitely took the principles I learned playing football at college and transferred that to this new career and it's been working out for me.
I'd say, yeah. Once you got the part, did you do anything to prepare? I know you knew the football aspect of it but did you work with anybody acting wise since you'd never acted before?
Donovan Carter: When I got the part, we did the pilot and after we did the pilot we got picked up to series and that's when I started taking classes. I started going to acting class and I've been doing that going on for three years now.
Do you work with somebody before each show?
Donovan Carter: No, I worked with my teacher during hiatus and then when we start filming. I just do my thing, you know? I make my choices and do what I would naturally do.
Were you nervous the first day on set?
Donovan Carter: Yes, very, very nervous. I definitely had some butterflies. But that just let me know that I cared about it because if you're not nervous or if it doesn't scare you than it's probably not for you. Maybe you should be doing something else. I was definitely nervous, definitely excited. Like, "I'm on a set of a HBO show and I'm one of the main characters?" It was just crazy.
But I worked hard to get there and I put the time in, so I was ready. I was like, "This is different. I'm nervous but I'm not gonna let that slow me down. I'm just gonna go for it and have this experience and it's something I'm gonna remember for the rest of my life and I can tell my kids and my grandkids someday."
Did you ever in a million years think you'd be staring on a TV show with Dwayne Johnson?
Donovan Carter: Never, never. If you told me this when I was an undergrad or even when I first graduated I would've been like, 'that sounds good.' I would've thought you're on drugs or something. But that's the amazing thing about life, you don't know where it's gonna lead or where God's gonna take you. If you want something and you believe in it, it's gonna happen.
How is he to work with? I follow him on Instagram and twitter and he is one of the most motivating people ever.
Donovan Carter: He's really nice, really humble. He comes to work on time, he's professional. He's what you want as a leader. He works hard and he sets the tone for everybody else. The fact that he's so cool, it just trickles down to every level. When you go on set, it's all good vibes because it starts with him. He comes in there with such a good attitude. He so positive and he's always there for any question and he's there for you in any way. It's never about him. He's never selfish.
Acting wise, is he ever given you any advice?
Donovan Carter: Yeah, yeah. He told to keep working hard. Our stories are different. We didn't go to Juilliard, we didn't study for years. He just told me, "Keep doing what you're doing. Keep coming on set even when you're not working. Come on set and watch and learn."
Ballers on Sunday nights at 10pm on HBO.