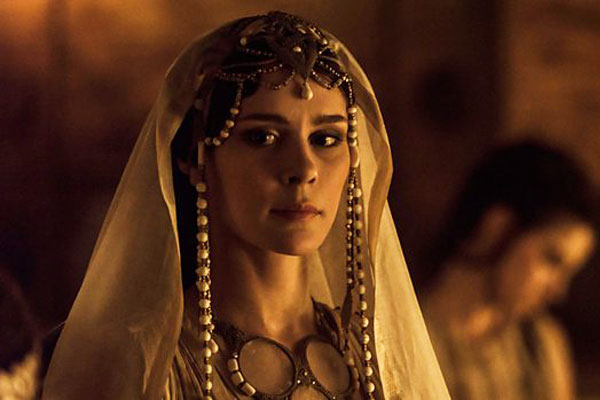 "It's out of my hands. There's nothing I can do. I can just do my job as an actor." – Bella Dayne on Auditions
German-born actress, Bella Dayne, who you may have recently seen in Humans and The Man in the High Castle, stars as Helen of Troy in Netflix's new series, Troy: Fall of a City. Dayne said the thought of playing someone who has been described as 'the most beautiful woman in the world' added a bit of "pressure." "Beautiful? I can't play that," she said. So, she began to think about what actually makes a person beautiful – their openness, their love – she found the hook she could use.
In the interview, Dayne chats about the audition that got her the role, making the character her own, moving to New York as a young actress and the survival jobs that she did along the way.
I'd love to find out about your audition. Especially, when you first found out about it. Because, first of all, when your agent calls and says you're about to audition for the most beautiful woman in the world, that's gotta be a little bit daunting.
Bella Dayne: Yeah, it definitely felt like that. At the time I was filming something else when I got the original call actually about auditioning for it. I actually had to put the first round on tape, but I remember thinking like, "Oh God, that's such high pressure and I don't even know if I should even read for this and this is ridiculous." I was at the time playing like a French Canadian Radical, very feminist and like very just … wearing very minimalist clothing. Doesn't care about things. Kind of masculine in a way. So, I was like, "I don't know. I don't even know if I have time for this. Why am I doing this?" But then when I put it on tape, that day afterward when I looked at it, I was like, I don't know.
But there was something all of a sudden that, I think, before I sent it out I taped it, again, the next day and actually sent out that version. Because there was something that really moved me about the character. And I guess, that's what you always try to get to identify and get into character and connecting with it. Luckily, that happened. But yeah, I didn't think much of it, though. When I sent out the tape I thought, like, "Okay, well that was that."
And the next round, which was a few weeks later, was the director producer session, and then chemistry. The night before, I just had the wrap party for the project I was working on at the time. I stopped by just to show my face for half an hour and then go back to studying and preparing for the audition. I can't tell you, I was anxiety ridden as having the pressure of thinking, "Oh, this has to be the most beautiful woman in the world." I think one of my co-stars actually saw that when I walked into the wrap party. He was like, "Bella, okay. So, let's take a breath and take a Tequila shot." And, you know, reminded me what does it mean to be beautiful and what beauty is really about.
I did think, "What do I find beautiful? What's the most beautiful thing to me about a person?" What has been described about her is her warm, open heart and being so open. That is what I think is the most beautiful thing about a human, any human, really. Any shape or form, you know?  If there's love in the person's heart and they're very open-hearted, warm.
The other thing that she had about herself was confidence. Self-confidence in being comfortable with herself, being comfortable with her body and her sexuality. That at the time was just something that was very, very modern and I think frightening to men in a way or felt like a seduction, because at the time women weren't sexually confident in that way. That was the other thing that was, I think at the time, so fascinating to men, was the combination of the two.
The moment I realized that, when I went into that audition, I didn't think about the looks thing for one second anymore. Also, beautiful? I can't play that. I was like, "Okay, it's up to them. It's out of my hands. There's nothing I can do. I can just do my job as an actor."
I imagine getting the call that you booked the role was a pretty good day.
Bella Dayne: Yeah, yeah. It was like three weeks later or something. I think they actually were looking for awhile after that too, because they were a bit concerned that I might be too young. After, I think like three or four weeks, they called me and asked me to tape… I was in LA by that time and they asked me to tape a few additional scenes. Then, the director gave me notes, like, "In this scene, could you do this one thing? I just need to see this one thing happening to her." Okay, cool.  They gave me two days and so I taped and didn't sleep.
I think the age thing, once they had an historian advise them, she said that Helen got married, was married off at 14 and had a child. At a very early, young age, so actually the age in the end, they thought actually worked out perfectly. So, that was great.
So then once I got the call, it was a bit… I think if I get the part or something I will jump around in my room and literally will be a bouncy ball. But for this part, I think it took me a moment. Because I love Greek mythology so much and it was a dream of mine to play someone in that time area and that time period. I couldn't even process it. It took me a few days, actually, to process it.
When I set foot on the set that we had in South Africa… which was absolutely incredible. I felt like we time traveled. There were a lot of days where I couldn't believe that I was doing this job and was so grateful.
A lot of people have played her over the years. How did you try and make her your own?
Bella Dayne: I mean, I obviously watched the film as a teenager and thinking, "Oh, God, I would love to play something like this one day." So, that inspired me a lot.
But, I first thought, "Okay, maybe I shouldn't look at other versions."  And then I thought, "No, maybe I should to understand kind of how they played her." I didn't look, actually, at all versions though. But, that was just in the very beginning and then I let that go, because you can't, if you see, look at, "Oh, this is I want to play someone." That's superficial. I don't think that's how you should go about playing a character. Where it should come from is your understanding of that person.
That was just in the beginning and then I actually dove into her back story and all the research. And the historian, the way she described Helen and how has been perceived, that this was a very, very modern woman breaking out of the classic role at that time of what a woman was for, just being there for reproduction. Not having any sort of rights or freedoms.
I just went into the depths of researching all kinds of different materials. The more and more you understand how this woman grew up, I just really felt so passionate about telling her story. And the most important for me was understanding why she would break away from the marriage leaving a child behind. To me justifying that and really looking at what was this woman's life like growing up and up until then what were her circumstances and how did she feel and what was her life like? That was the most important part to me.  That's something I really connected with and felt passionate about telling in a certain way. It's always hard to justify ever leaving a kid behind, but why someone would consider that, how painful or how constricted their life must have been up until then.
You've got some great costumes and the set looks fantastic. I'd imagine it makes it tons easier to get in that frame of mind when you start shooting.
Bella Dayne: Oh, yeah, definitely. All the costumes were so incredible. They helped tremendously and I, in general, find that wardrobe is such a tool for an actor. The moment you get into wardrobe and makeup and hair, it makes you feel like the character and transforms you.
For Helen, there's a gracefulness. In Ancient Greece they weren't ashamed of their bodies. They celebrated human anatomy and bodies.  That was really beautiful.
At the same time, what I loved is I worked very closely with the costume designer that we had and would really discuss small details from like a necklace with feathers in it. Recurring themes of the character of Helen and the theme of birds and wanting to break out of the golden jail that she was in. So we would have all kinds of little recurring things.
You moved to New York very early on. What was that like as a young actor there? Did you have any contacts when you moved or did you just go just say, "Hey! I'm going to New York."
Bella Dayne: Yeah, I basically just said, "Hey! I'm going to New York!" Yeah. I did not know anyone there. A lot of people in my hometown, in Berlin, all of my fiends did say, "Hey, do you want to think about this? I think you're a bit crazy. Why don't you stay in Germany and do some work here or something?" Which I understand their point, but there was just something I couldn't really explain. I just wanted to jump into an absolute unknown adventure.
And I did have a romantic idea of the classic acting schools in New York. I had a romantic idea of how the path of an actor should be. So I auditioned for two acting schools in New York and applied for them and then I started a program at Stella Adler.
I didn't know anyone in New York at all, but obviously, because I started at Stella Adler, those people became my friends. And so, it was a fantastic time. Absolutely lovely.
But I did have an incredibly thick German accent at the time and the language wasn't the easiest. There are a lot of things I think back and can't believe how certain things probably turned out at school.
But, yeah, it was an incredible experience. It was very much I think like in the movies. You know, you ride your bike acting school in the morning and cars honking. It is very much the new York experience. And being broke too.
What was your survival job while you were there?
Bella Dayne: Well, I was very lucky.  A year beforehand, in Berlin and in Germany… I don't particularly like modeling at all, but I'm very thankful that it helped me save up the money. I wanted to go to acting school and I saved money for a year in Germany for that particular reason. So, once I went to LA, I worked about three jobs at the same time for awhile. You know, a server, a personal assistant. I was even an Uber driver for awhile.
I think it was an important experience and I think it definitely makes you so grateful once you see, you know, the earnings of your hard work. And also, it makes you appreciate what hard work is. You understand the value of money and how hard people have to work to make it. And I think it's a very, very important lesson you should never forget.
Troy: Fall of a City is now on Netflix