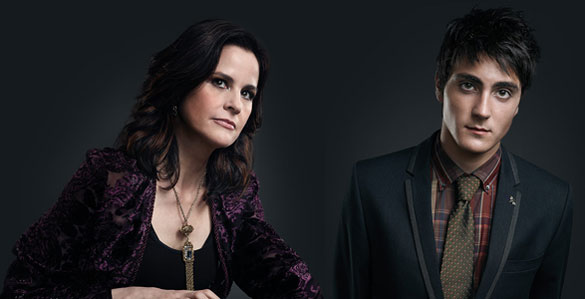 In Neil LaBute's new DIRECTV show Full Circle, Ally Sheedy and Noah Silver tackled their scenes both in English and in French. For any actor, handling the challenging writing with a screenwriter like LaBute can be its own obstacle, adding another layer of language to the fold is another.
Daily Actor interviewed Sheedy and Silver and chatted about their bilingual relationship.
For the full interview, click the audio link above or download it from iTunes 
Sheedy explained, "Celeste [Ally Sheedy] and Robby [Noah Silver] have a part of their relationship that they talk about in French. That's separate from what they talk about when they speak English…when we would go into French, the rhythm would change. It was also secret. It was like code almost."
Silver continued, "Yeah, the change in language was a part of the story. It was an important thing that just sets us apart to be able to speak in our kind of secret language."
LaBute's bilingual choices affect how the mother and son relationship plays out during their episode.
"It made sense. It wasn't like just suddenly, randomly switching languages just because you just do. It was specifically for a reason," said The Breakfast Club star.
What every actor in this project has emphasized is the talent of LaBute and what he brought to the table for the 10-episode series.
The 51-year-old actress effusively praised the award-winning writer, "Well, it's written beautifully. He's a genius of a writer. It was probably the most challenging thing that's come along in…maybe ever. The subject matter and what's going on with the relationship, it's really dark and a big challenge to put on working with Noah straight 25 pages, this particular relationship, and two languages. So it was absolutely perfect because I read it and thought, 'I have no friggin' clue how I'm gonna do this but I'm just gonna say yes.'"
The complexity of the script is deceiving on the page and The Borgias star knew that he had to dive into what LaBute was really trying to say.
"It's so weird because when you first read it, it seems really simple and light, but the more you read it and the more you get into it there's just so many layers to it. It touches so many different things at the same time that it really takes you back. It's more than really what's there," Silver said.
As for choosing their next projects, it sounds like LaBute's writing spoiled them with such well-crafted words.
Sheedy simply stated, "At this point, I just want something that's well-written."
The duo's episode of Full Circle airs on Wednesday, Nov. 6 on DIRECTV.