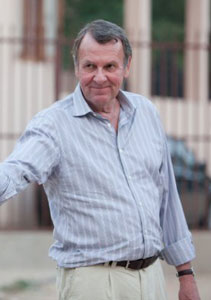 British actor Tom Wilkinson has spent his career playing dramatic roles in films like In the Bedroom and Michael Clayton.  So it's a nice surprise for viewers to see him in the new comedy The Best Exotic Marigold Hotel. 
In an interview with The Washington Post, Wilkinson admitted he was challenged by the role.  He said, "Comedy is really tough.  You can see how people want to get out of it pretty damn quickly and start to establish their credentials in other areas."
The actor started his career in British theater and on that, he said, "I'd gotten to the point where I'd done everything I could in Britain.  I could more or less do what I wanted in theater, and I could certainly do what I wanted in television.  Friends of mine were doing films, and I thought, 'I want some of that.  I'm gonna go over there.  I want to sit down and play with the big boys.'  I said to my agent, 'No more theater.  No more telly.  We'll start again.'"
From there Wilkinson got roles in Full Monty, Rush Hour, and Shakespeare in Love.  But the actor doesn't take his part in the filmmaking process very seriously.  He said, "You turn up on time and know your lines, you do the best you possibly can.  And then you finish and go away.  What happens then is when the real work starts on a movie."
He notes that he just needs the script to be good.  If the script is well written, "chances are the rest of it is good, too.  You wanna look at a script and [envision]the finished product [being]better.  And nine times out of 10, that doesn't happen.  The alchemy doesn't come off."
The Best Exotic Marigold Hotel is now in wide release.