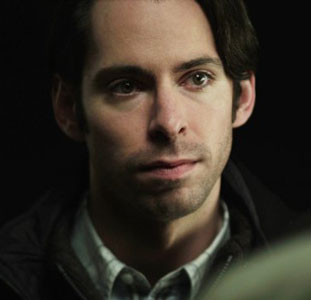 I don't know Martin Starr by his own name, I know him as Haverchuck, the gangly nerd on Judd Apatow's ended-before-its-time television show Freaks and Geeks.  I still regard his understated performance in an episode that didn't even air until after the series was cancelled in which his mother starts dating the gym teacher he despises as some of the finest acting by a teenager I've ever seen.
Though Freaks and Geeks ended over ten years ago now (!), Starr has kept busy, appearing in Judd Apatow-related comedies like Knocked Up, Superbad, and Walk Hard and on television shows like Community, Parks and Recreation, and The New Girl. Though the roles are often small, Starr is always grateful when he is approached about a role. He tells Interview magazine, "I grew up in LA and I've been fortunate enough to be doing this for a great deal of years; if someone is thinking of me as they're writing something I take it as a huge compliment and hope that it's an interesting character at least. But I don't ever assume that that is how they see me necessarily."
Starr admits that very often those small roles don't pay much, but that doesn't matter much to him.  He says, "My manager makes fun of me for the fact that I avoid the money, I'm allergic to money, because the choices that I make usually concern the people and the project itself, rather than the financial gain that is projected. I have the reputation for being the opposite of a money-grubber."
One of those roles is in the relationship comedy 6 Month Rule.  He explains, "That movie just came out of the woodwork, I guess two years ago. I was offered the part, but they were like, 'We'll need to know soon because you'd have to fly out to Freeport, Louisiana next week.' I read it and there were a few moments in the script that scared me as far as bringing them to life, so that made me really intrigued to do it. I talked to Blayne Weaver, who directed it, and he made me feel at ease about being a part of it."
Starr is reflective about his career although he is only 29.  He reveals, "I've been doing this for almost 15 years, so hopefully by now I have some understanding of what I'm doing this for and how to make sure that my needs are met. Life is too short to torture yourself for no reason. I've had unsatisfying experiences, but mostly it's about communication, which is why I make an effort to talk to the director beforehand to make sure we see eye-to-eye as creative individuals. If [good] communication isn't present, you can lose something and end up very unhappy."
6 Month Rule is now playing in select theaters.