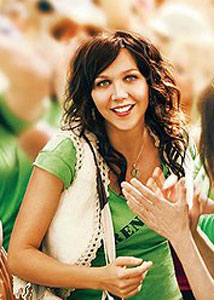 Maggie Gyllenhaal is not an actress who wants to take on typical female roles.  In her new film, Won't Back Down, she wanted to create a relatable character, a mother fighting for her child's right to a proper education.
"I didn't want to tell the story of someone who does something heroic, who is immediately identifiable as an exceptional, remarkable, heroic person when she starts," Gyllenhaal told The Los Angeles Times.  "I wanted many people to be able to relate to the possibility of doing something heroic. 
"I also wanted her to be really flawed as a mother, and by that I mean like any other mother, trying to manage as best she can, making mistakes, sometimes being able to think about them and sometimes not."
Gyllenhaal's character fights to reform her child's school, which is in dire straits.  "It's funny how everyone gets concerned when you are playing a heroine in a big movie that you be really relatable and likeable.  All the way through, it was a fine line to walk."
Won't Back Down will open in theaters September 28.