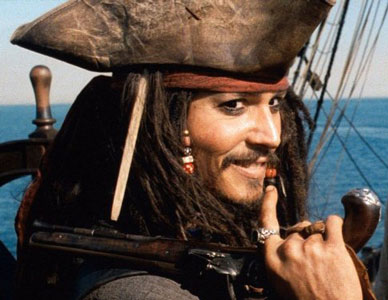 We hear so many stories about how self-centered and arrogant Hollywood stars can be (and I've met a fair share) that it's always nice to hear a story about an actor who actually does give back in a more substantial way than writing big checks to their favorite charities. 
Case in point: Johnny Depp visits sick children in the hospital dressed as his popular Captain Jack Sparrow character from the Pirates of the Caribbean movies.
In fact, this apparently isn't a one-time thing — according to Jerry Bruckheimer, who has produced all four Pirates movies (and the fifth that is currently in the works), Depp regularly travels with his Jack Sparrow gear in order to visit sick children in-character.  However, he doesn't only visit hospitals as a pirate.  One example is when Depp visited a school nearby the Old Royal Naval College, where the fourth Pirates film was filming.  A girl who attended the school wrote Depp a letter to invite him to visit the school and he did — as Jack Sparrow.  The young girl recalled, "Johnny Depp walked in dressed as Captain Jack. There were gasps and screams. He pulled the letter out of his pocket and said he was going to frame it. Then he called me down and gave me a hug."
No word on whether or not Depp also brings his Edward Scissorhands, Willy Wonka, or Alice in Wonderland costumes with him to freak out bad children all over the world.