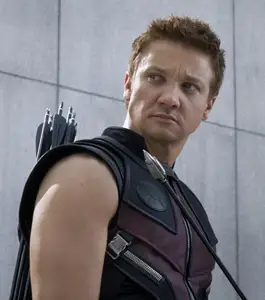 Actor Jeremy Renner, best known for his Oscar-nominated roles in The Hurt Locker and The Town, is gearing up for the release of his new movies, The Avengers and The Bourne Legacy. 
Legacy, set to premiere August 3, is the fourth movie in the Jason Bourne series, but it will be the first one not featuring Matt Damon in the lead.  In an interview with The Hollywood Reporter, Renner said, "It was a game-changer in anonymity.  I had to consider how this was going to affect everyone I love—especially myself.  The star thing, the celebrity thing is new to me.  I don't want to be a good celebrity, a good f—ing star.  I want to be a good human being."
The 41 year-old has had plenty of time to prepare for the spotlight.  He also has had the benefit of getting advice from his more famous costars.  Renner recently shared the big screen with Tom Cruise when they made Mission Impossible: Ghost Protocol, and the more veteran actor gave him some tips.  Renner said that Cruise told him, "Since you are doing all your stuff, there is no second string and you have to do due diligence not to get injured." 
However, while shooting the upcoming Avengers, Renner still suffered a few minor injuries during the shooting of the action scenes.  Even more difficult was when he "had to degrade to near death in the movie, where I had to shake for many minutes, and it looks like it's nothing, but when it's over I was more sore than I was the entire shoot."
Despite the many film roles he has lined up, Renner is still interested in doing a Broadway production of Cat on a Hot Tin Roof with his Avengers costar Scarlett Johansson.  The actor notes that he'd be willing to forgo the theater if Ridley Scott hires him for his upcoming project, The Counselor.