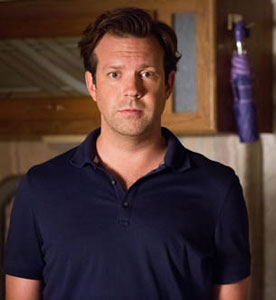 Jason Sudeikis is familiar to most television audiences for his work on Saturday Night Live. After ten years on the show, two years as a writer and eight years as a cast member, the comedian is moving on to other projects.
Sudeikis sat down with actor Michael Keaton for Interview magazine to talk about his style of comedy where he doesn't play the material like it is comedy. He tries to find the inner workings of the character to discover where the comedy emerges.
One of the We're the Millers star's favorite moments to play are the transitional moments. He described his approach to making those moments work on-screen.
Sudeikis shared, "I'm always a fan of those smaller moments. In my head, I sort of go about performing a comedy show like it's not a comedy show. I made the choice to move to Chicago to try Second City because of guys like Scott Adsit, who was on 30 Rock, and Kevin Dorff, who did Conan for years. Those are my heroes, and they were great actors, but they didn't push, in the sense of, "Oh, I get either three little laughs here or I just sort of save it all and I get one big laugh …" Those guys played it real and that's what I liked."
Keaton then probed the 37-year-old actor about improvisation and how some people just go straight for the laughs which is against the basic rules of the genre.
Sudeikis elaborated on that thought, "I think for a lot of people, when they hear the word improvise these days, they have a tendency to think that the camera just rolls, because now we have a little more leeway with everything being digital, so you're not spending as much money as you were when you were shooting film. But a lot of improvisation ends up being about just thinking outside of the box in the scene. It's not improvisation as much as it is quickness or making it real."
One thing that comedians must do is stay in character, something that is not always followed on SNL. It's pretty common to see the actors break on camera. However, Sudeikis has a pretty good formula for keeping in character.
"…my joke about barely ever breaking on SNL is, "Well, I don't find the show funny. That's why I don't break." [Keaton laughs] But the truth is that whenever I do break, I just break in character as if what's happening is ridiculous instead of hilarious. So you laugh that way and try to cover it. You bite your cheek, you bite your tongue … But during improv shows, I lose it all the time," said the funnyman.
Sudeikis will next be seen in We're the Millers which opens nationwide on Aug. 7.