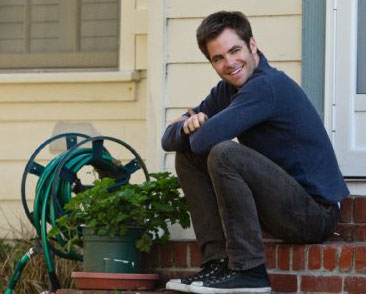 Chris Pine has taken on roles in blockbusters  – 2009's Star Trek – and romantic comedies – This Means War – but, he was quick to admit to USA Today that he was more than ready to step away from those types of movies. 
He said, "After Star Trek, I did Unstoppable, and then I did This Means War, which were two not-smaller films.  Unstoppable was a great amount of action, This Means War was a great amount of comedy.  I enjoyed making both of them and got chances to work with people I'd wanted to work with all my life.  But…I never got into this business ever thinking that that would be the path I'd be going down."
So Pine was pleased when he landed the role of Sam, a salesman who gets reunited with a sibling he didn't know he had (played by Elizabeth Banks) in the drama People Like Us.  "I love the character," he said.  "I thought he was flawed and funny and dark but in a really human kind of dark way."
Despite having a full plate of upcoming projects, Pine acknowledges that he doesn't know exactly what his future holds.  He said, "I'm guilty of paying the 'what if' game, or 'if I'd done that,' or 'why aren't I here?'  But really, at the end of the day, I'm so firmly aware of how difficult it is to make a living doing what I do.  I'm at a level I never thought I'd get to, and I'm working at that level.  I know people that I never thought I'd know, I've worked with people I've never thought I'd work with."
People Like Us is in theaters now.