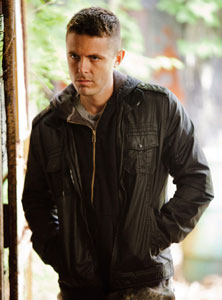 As the younger brother of Ben Affleck, Casey Affleck is used to being in the shadows. The 38-year-old actor is looking to change that. His upcoming film Out of the Furnace with Christian Bale seems to be that catalyst for the actor.
"What I saw Christian doing was, I felt like, some of the best acting that I've ever seen," Casey said. "You know when you sort of forget what you like about movies, and then you see a movie again that reminds you of why you fell in love with them in the first place? That was the experience."
Fans of the Gone Baby Gone star shouldn't expect him to seek A-list superstardom on the level of his brother or family friend Matt Damon. It's just not something Casey wants.
He said, "Just the disingenuousness of it — just the putting on the fitted shirt and mugging at the photo shoot. That sort of performing-as-yourself aspect of it, I wasn't good at it. I'm not above it — there are people who are peers who have basically built a whole career out of it, and I wish that I could make a better living doing this and I didn't have to go job to job."
His start in acting was one that most aspiring actors would envy. His roles in To Die For, Good Will Hunting and Chasing Amy made him a name to follow in Hollywood. However, Casey soon fell into a funk with his career that was less than satisfying for him.
"I got sucked into doing movies because now I was depending on it for my livelihood, and I had an apartment in New York and I started to have things I had to pay for, so there was a period where I did some movies that I had no interest in," he shared. "It was a job, and it started to become not so fun — movies like Drowning Mona and Soul Survivors that I just did. Then I started doing the Ocean movies. Those were fun, but also a lot of time spent being, like, 100 feet away from the camera in the background while George [Clooney] and Brad [Pitt] were in the foreground. That was sort of a great, fun social experience, but not all that exciting as an actor."
Which brings him full circle back to that moment on set with Bale on their upcoming steel-town brotherhood film. The Batman franchise star reignited something in Casey.
He revealed, "I didn't even realize it, but I had become disillusioned with acting a little bit. What he was doing made me think, Oh, that's what I've always wanted to do. I wanted to do that."