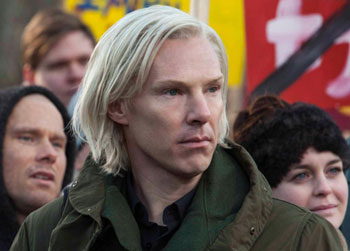 2013's hottest actor in Hollywood is on a winning streak right now. With career-making turns in August: Osage County, 12 Years a Slave and The Fifth Estate, Benedict Cumberbatch is making himself a household name.
In a recent interview with Moviefone at the Toronto Film Festival, the actor revealed the transformation he underwent to play controversial Wikileaks founder Julian Assange in The Fifth Estate. Morphing into the polarizing figure not only happened mentally, but physically as well.
Cumberbatch shared how putting on the bleach-blond wig put him right into character.
"I think the first time I put it on, and I came into the room, people were like 'Oh, wow!' And that's a great thrill when you think, OK, well, something's working. I mean, I think he's got softer features, and I think I'm a little more angular, which sometimes makes me look a little weird and creepy with some of the wigs, and that's not the intention at all. I've got a longer face, he's got a rounder face, so it was a challenge. The harder thing was the contact lenses because I've never worn them before," said the British actor.
In addition to the wig, he also had to wear contact lenses to capture Assange's gray-blue eyes and prosthetic teeth to change his facial structure.
He said, "I wanted to tone down my eyes a little bit, as well as the teeth here…I had a new set of prosthetic teeth and a slightly bigger lip to push that forwards. I've got a very big bottom lip and we have a slightly different structure to our faces, so I wanted to try and experiment with that a little bit."
Wearing such devices created a new level of performing for the Star Trek Into Darkness star.
"With the accent and the dialect, and also the slight lisp, the hard ridge lisp…it's like a 'shhh' [sound]. That was a huge change," explained Cumberbatch.
Playing Assange was complicated though because the story was told from his former colleague Daniel Berg's perspective. It was up to the Brit and director Bill Condon to make the Wikileaks founder seem human.
He said, "It was important for me to portray him as a three-dimensional human being and not get into a slagging match about whether he was good or bad. I wanted to portray human characteristics about a man at the forefront of an incredible media revolution, with incredible ideas, whose controversy was primarily borne out of that, and not get bogged down in character assassination, which is so easy to come by."
In order to create that humanity in Assange, Cumberbatch did "a lot, an awful lot" of research on him.
"It was important to concentrate on what we were doing, which is making a film, a dramatization of events," the 37-year-old said. "So while it was informative, it was important for me to always remember that this is a perspective, not the perspective."
The Fifth Estate opened nationwide on Oct. 18.