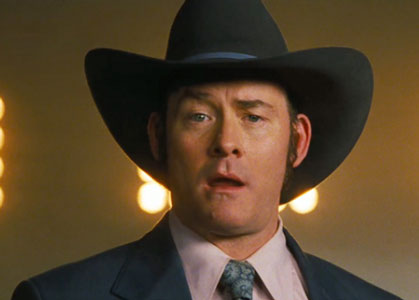 One of the most highly anticipated films of the holiday season is Anchorman 2: The Legend Continues. One of the actors returning to the fan-favorite film is David Koechner who plays Champ Kind, the sportscaster at Ron Burgundy's San Diego news station.
The stand-up comedian recently spoke with the San Diego Reader about his career and why he chose to star in a film like Pirahana 3DD.
"The reality is, I have five kids. Sometimes, economics makes choices for you. But here's the thing I love: I do all kinds of stuff, and I embrace it. I wasn't stuck with four more films like Piranha 3DD," explained Koechner. "I went and did Anchorman 2. I did three episodes of Hannah Montana. I did a voice on Phineas and Ferb. I went to Canada and shot a film with Brent Butt. I went to Vermont and did a short film that made me cry because it was about a woman who grew up in a family where her two oldest brothers had Duchenne muscular dystrophy, and they knew they were going to die. I don't think I even got paid for that, but it was one of those things that you have to do. I did a dark thriller called Cheap Thrills that has some comedic elements."
Even if a few of his films aren't Academy Award winners, the 51-year-old actor is truly grateful for his career.
He said, "I've been blessed with many opportunities. Some turn out great; some, people might turn their noses up at; and some make me say, 'Fuck yeah, I did this thing!' People think of me for two roles: Champ Kind and Todd Packer. But I started on Saturday Night Live. I get to go out and do stand up. I've been so fortunate."
The Office star understands what an acting career is all about.
"My job is to play for a living, and if I get to play in a lot of different arenas, so be it," he said.
Koechner has dabbled in so many areas of the industry from TV to feature films to new media. However, he does have an area of entertainment that will always be his favorite.
The dad-of-five shared, "If I could pick just one thing, do it in town, and make a solid income out of it? Standup. There's nothing better than that immediacy — you having that communal experience with an audience."
Anchorman 2: The Legend Continues opens nationwide on Dec. 30.