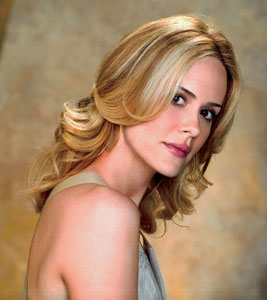 After facing a brutal season on American Horror Story: Asylum as tortured victim, Lana Winters, it makes sense that Sarah Paulson was ready for something a little different.  Now, she's starring on Broadway in Lanford Wilson's Pulitzer Prize-winning play, Talley's Folly. However, Paulson wasn't initially sold on the idea of returning to the stage.
"I was like, 'Oh, damn it.  I'm afraid.  I don't want to go to New York.  And doing a play is so hard.  I'm tired.  I'm scared.  I don't want to," Paulson said in an interview with Yahoo! News.  But her best friend, actress Amanda Peet, convinced her to take on the role in the drama set during World War II about a middle-age romance.
"You just have to do it," Peet responded after reading the entire script with Paulson.  "I said, 'Damn it.  I do, don't I?" Paulson answered.
Paulson got her start in theater, but she has appeared in films like What Women Want, Down With Love, and Martha Marcy May Marlene.  She received a Golden Globe nomination for her role in Aaron Sorkin's one season drama, Studio 60 on the Sunset Strip and nods from the Golden Globes and Emmys for Game Change.  But her recent roles on Ryan Murphy's two seasons of American Horror Story have thrust her into a well-deserved spotlight.  That doesn't mean that going back to the stage was easy for her.
"It's something that really terrifies me, actually," the 38-year-old said.  "I'm really scared out there.  I get more comfortable as I go along but then sometimes on a random night I'll just get completely petrified and I can't feel my feet or my hands.
"I will text Amanda and be like, 'Remind me again why this is a good idea?  Who decided that this was a good idea to get up in front of people and perform?  This is ridiculous.  Put me back in a box in a black room with a camera and a microphone where everyone can edit it and make it look great.'"
Paulson will get her wish, when she returns to American Horror Story's third season later this year.