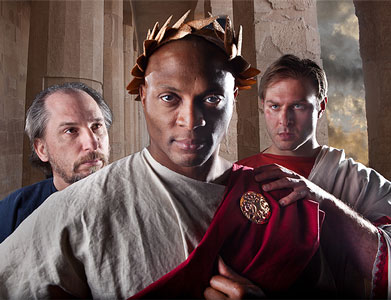 While there has been a handful of athletes-turned-actors, most that come to mind appeared in supporting roles in comedies that were built out of their already established images, like Bob Uecker in the Major League movies or Mike Ditka in Kicking and Screaming, and who could forget Bubba Smith from all those Police Academy movies (we'll tiptoe around the former athlete who appeared in the Naked Gun series, though). 
It's not often that we see athletes take a dramatic turn, though.  But for College Football Hall of Famer and former Tennessee Titans great Eddie George, the stage has become something of a second career. 
Like the previously-mentioned athletes, George took part in a few comedic and action roles on television and in movies, like in The Game Plan.  But after appearing in a production of God's Tombstones in Nashville in 2006, George was cast in the lead role in the Nashville Shakespeare Festival of William Shakespeare's Julius Caesar, which runs through January 29 at the Troutt Theater at Belmont University. 
George doesn't want the production to be viewed as a vanity project, however.  He told the Tennessean, "I hope that the performance will have enough integrity that you won't just have a football player up there, but instead, a man (Caesar) who has accomplished a lot and is in the midst of transition, dealing with his own issues.  It's fear versus confidence, the whole array of emotions going through him as a human being."
What George lacks in experience he certainly brings in enthusiasm — although reviews have been mixed.  While those associated with the production, such as the festival's artistic director Denice Hicks, are impressed by the former running back's dedication, NFL.com writer Henry Hodgson called the performance "hamtastic."
No offense Hodgson, but I'm pretty sure George took much harder hits on the field than that.
Via NFL.com